With Encyclopedia Britannica gearing up to launch a new version of Britannica.com that will incorporate more community features, I decided it was a good time to take a look at Britannica.com.
Is it in a good position to compete with Wikipedia, the user-generated online 'encyclopedia' that eclipses Britannica.com in popularity, or will it have to do more? Here are 5 criticisms of Britannica.com that I believe it needs to address to be successful.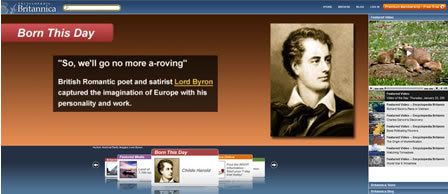 Too much Flash
Britannica.com's flash homepage is the perfect example of the ineffective use of Flash.
Britannica.com's use of Flash in this location serves little purpose of value to the user; it is used to highlight random content that is unlikely to be of interest to individual users. For instance, as seen in the screenshot above, I was greeted by a massive feature informing me that Lord Byron was born on this day. I love Lord Byron but is highlighting his birthday a worthwhile use of Britannica.com's most valuable real estate? Probably not.
Britannica.com's homepage should make it easy for users to find content. After all, Britannica.com is an online encyclopedia. While content discovery is important, given the nature of Encyclopedia Britannica, a search-oriented approach probably makes far more sense.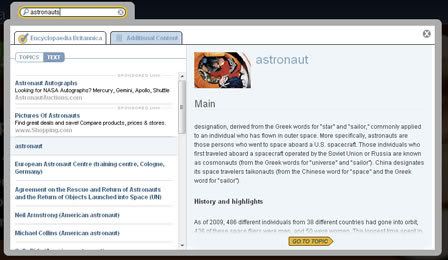 Search sucks
Unfortunately, Britannica.com's search functionality, for lack of a better word, sucks.
Using the small search box that exists at the top of the homepage creates an in-page popup/layer that contains the search results. This is clunky to navigate. When moving the mouse outside of the popup area, annoying ads display and making matters worse, accessing full content is a real chore. To see full content, the user is forced to click on a 'Go To Topic' button that then loads all of the desired content in full-page. The experience is anything but smooth.
Design and navigation are not uniform
Different sections of Britannica.com have different designs and navigation systems. Clicking through to the Britannica Blog, for instance, dramatically changes the user experience. The design and navigation system is entirely unique and getting back to Britannica.com requires that you locate the single Britannica.com link on the top navigation bar.
To create a more pleasant and seamless user experience, Britannica.com really needs to unify all of its various sections and sub-sites with a single design and navigation system.
Too much client-side scripting?
Even on a quad-core desktop computer, I experienced significant lag when using the website although this was far more pronounced in IE7 than it was in Firefox.
The source of this lag: it appears that Britannica.com uses quite a bit of client-side scripting and this can be problematic. IE7 crashed twice for me when using the aforementioned search popup.
While client-side scripting can be very useful, Britannica.com's engineers should look at how much work they're pushing onto the client. Such an analysis should be done in the context of the interface; the search popup/layer, for instance, as mentioned, does not provide for a good experience and a better experience could probably be achieved without so much client-side scripting.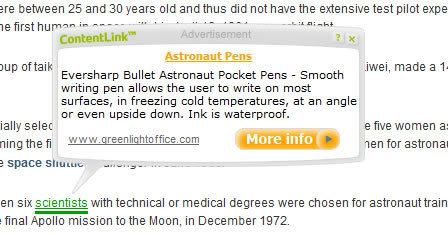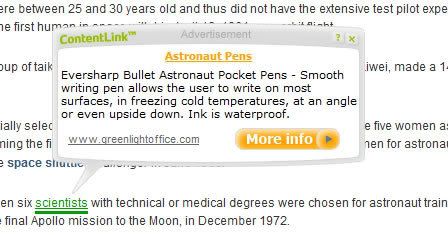 Annoying ads and upselling techniques
While I'm all for monetization and understand that publishers need to make money, the way Britannica.com implements ads and tries to sell its premium subscription service are irksome.
From the prominent sponsored ads that appear in the middle of text to the extremely annoying Kontera ContextLink ads (seen above) that are linked from certain words within the encyclopedia entries themselves, it's clear to me that Britannica didn't give much thought to the balance between monetization and user experience.
This is especially problematic when trying to upsell a paid subscription service, which itself is promoted through annoying page overlays that continue to appear even after the 'minimize' button they contain has been clicked.
Summary
I have a lot of respect for Encyclopedia Britannica and the quality of its content catalog. I can sympathize with president Jorge Cauz's belief that Britannica is being slighted online.
But a look at Britannica.com demonstrates that Encyclopedia Britannica has a less-than-compelling online offering as far as user experience is concerned. As I mentioned earlier this week, building a successful online presence today requires a holistic approach. Great content in the absence of a great user experience is meaningless, as is a great user experience in the absence of great content.

While Britannica.com's pending launch of new community-oriented features may improve its offering and be a step in the right direction strategy-wise, I'm afraid it still won't help Britannica.com compete against Wikipedia, which offers a far better user experience. As such, Encyclopedia Britannica needs to take a closer look at all aspects of its web presence, not just its high-level internet strategy.