Amazon is expanding its e-commerce empire. Although the online retailer has been selling mobile phones for years, it has launched AmazonWireless to serve the market in a more finely-tailored fashion.

AmazonWireless, which is in beta, is essentially the online retail equivalent of a 'microsite' and is quite simply designed to provide a one-stop shopping experience for US consumers looking for a new cell phone or service plan.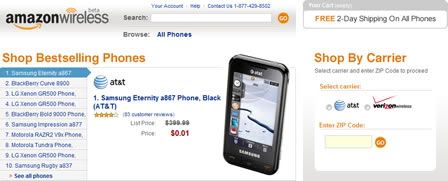 To start, AmazonWireless is selling phones and plans for AT&T and Verizon Wireless. More than 120 phones are on offer and Amazon is offering free two-day shipping on all of them. Consumers in the market for a mobile phone or mobile plan can shop by carrier, price, brand and features.
As Paul Ryder, Amazon's VP of Consumer Electronics, makes clear, AmazonWireless is all about experience:
The step-by-step purchase process on AmazonWireless
makes it easy for customers who already have a plan to upgrade their phones. If
you want to establish new cell phone service, we've made it simple to find the
right phone, service plan and options for your needs. We've also eliminated the
technical jargon and frustrating rebate paperwork that customers often face when
buying a phone.
Amazon's press release goes on to state:
The site's shopping cart guides customers through each stage of the purchase
process, where customers will find familiar Amazon features like bestseller
lists, detailed product descriptions and customer reviews.
Obviously the mobile phone market is an important one for an online retailer like Amazon and if AmazonWireless, by offering a user experience better geared towards this particular market, can help Amazon capture more of it, it could be a winner. It could also be a good case study for other retailers, some of whom could probably benefit from taking a similar 'microsite' approach.