Google might as well have been called Simple. Back when Google was a new entrant in the search engine market and larger competitors were cluttering up their homepages with as much content as could be aggregated on a single page, Google took a different approach and offered internet users an alternative: a clean, if not sparse, homepage that focused on one thing — search.
Relatively-speaking, that homepage hasn't changed much in the past decade. But what has changed: Google's SERPs.
In its effort to index the world's information, Google has increasingly added to SERPs that were once just about as simple as its homepage. A search for 'social networking', for instance, returns news items, tweets, images, videos and book results alongside traditional results. A search for 'iPhone' returns shopping listings, news items and videos. In addition to results that are based on content type and content source, Google has made other changes, some subtle and others not-so-subtle. From Sitelinks to forum post highlights to music results, not all SERPs look the same. And you've probably noticed that the AdWords ads that keep Google's employees well-fed have moved closer to the SERPs.
Taken alone, none of these changes seem extreme. And Google's intentions are clear: it wants to make it easier for its users to find the information that's most relevant to their queries. But a recent search experience that had me combing through SERPs that happened to include lots of the 'features' above made me wonder: are Google's SERPs getting just a little bit messy?
On one hand, it'd be a stretch to argue that any of Google's SERPs represent the most extreme example of clutter seen on the web. Google's SERPs are still very much usable. On the other hand, trying to surface news items, tweets, images, videos, etc. all on a single page is really, really difficult to do without creating some clutter. And 'some clutter' is definitely what some of Google's SERPs now have.
The question is whether or not Google is degrading the search experience to a detrimental amount. Even if it is, it's unclear what the impact would be given Google's dominant position in search. But I do think cluttered SERPs highlight a challenge that Google and other search engines will increasingly grapple with. In my opinion, SERPs based on content type, source, and vertical are here to stay. Realistically, they're a necessity. But Google (and others) should consider just how much they throw at users on a single SERP. For a 'social networking' query, is it really necessary to return news items, tweets, images, videos and book results on a single page? Probably not.
Google's job is to help users find relevant information. Today, that requires looking not just at content itself should be highlighted, but which type of content.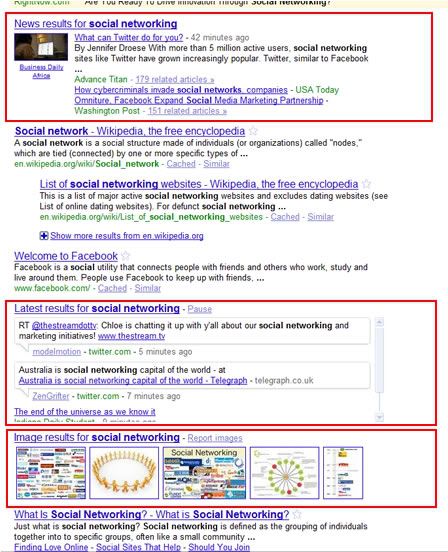 Photo credit: dullhunk via Flickr.