Everyone loves a deal and that's especially true when times are tough. So it's no surprise that bargain hunting online has become an even more popular pastime for consumers. From coupon sites to cashback sites, consumers looking to spend money have plenty of ways to get more bang for the buck.
Helping them get that bang for the buck is something naturally suited to search engines. And Ask.com is joining the fray with a new service called Ask Deals.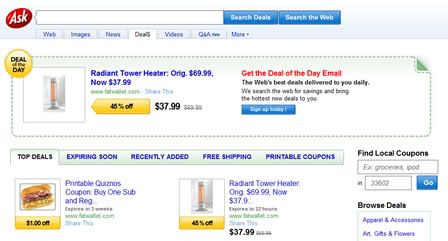 The service scours the internet's most popular sources of deals and provides consumers with an easy way to search for those deals. In other words, unlike say, Bing Cashback, Ask Deals isn't a standalone service for savvy shoppers; instead it's a true aggregator. From Ask.com's press release:
Ask Deals, its proprietary database of more than 1 million high-quality
savings offers from national and local merchants across hundreds of product
categories.

Ask Deals scours the Web for all the deals available online – from savings on 'skinny jeans' to restaurant coupons – and organizes the best money-saving offers front and center on the results page, eliminating the need for consumers to search multiple sites or multiple coupon sites or search engine links to find their answer. The Ask Deals database is continuously refreshed and editorially refined, giving consumers the most up-to-date and highest-quality savings offers every time they search on Ask.
As Greg Sterling at Search Engine Land notes, the bargain hunting space is huge and Ask.com is taking a different approach to try to stand out in it. "There's no Facebook of coupons, no Twitter of coupons and, dare I say it, no
Google of coupons", he writes. But Ask.com is clearly trying to change that and "is betting on comprehensiveness, based on its ability to crawl the Internet and
deliver a more effective and efficient search-driven user experience".
With less than 2% market share in the overall search market, Ask.com has little to lose with Ask Deals and, if you ask me, has chosen to focus on an area that is full of activity for very valid reasons. Of course, to succeed over the long haul, Ask.com will have to maintain an index of deals that is not only broad, but of great quality and freshness. Since it doesn't have a massive base of existing users to rely on, it will have to lure in a new crop of users. It will be interesting to see if Ask.com can pull this off. With the holidays right around the corner, it won't have to wait long to find out.