So you've got your free infogr.am account setup and you're deep into a 12-hour infographic process for your Robert Pattinson Fan Page. 
And since his pics are prolific on a certain social bookmarking site, you should probably get your Pinterest page set up and reach.li account ready to track and market it. Now you're a content marketing expert. Congratulations!
While you've chosen a hot traffic niche and have a good start, the competition is going to be heavy. Let's take a few steps back and look at some simple and effective content marketing strategies that will keep you pointed in the right direction.
In part one of Become a Content Marketing All Star: Graphadelic, we will concentrate on images, and their content marketing potential.
Create or legally obtain your image
Make it yourself
If you are a professional graphic designer who's already sworn to eternally avoid plagiarism, you may skip to step two. If you are a beginner, you can still make a marketable web graphic yourself. 
You may want to check out piktochart, infogr.am, and visual.ly, tools for making infographics. Or take some creative pictures of your business and the team that you work with. 
As with special DVD releases, blog audiences typically appreciate a good behind-the-scenes look at your business. Perhaps have your assistant marketing director take a picture of you with Kristen Stewart when you interview her for your gossip column.  
Legally curate others' content
Hire a graphic designer. Come up with a concept for an image that you'd like to use for marketing your blog. Center around ideas that can be shared with others in your niche as free educational information or marketing materials. 
Remember that the image doesn't always need to have your name plastered on all corners to benefit from it. Maybe conceptualize a simple infographic about the percentages and demographics of Twilight fan fiction readers. Make it generic so that you can share it on social media and social bookmark sites.  
Some of the best linkbuilding you can do with your graphics simply involves finding other bloggers in your niche and offering your image to utilize for their blog. Store the file on a blog entry on your own website. 
If they use your image, ask that they place a link to your original source image stored on your own website domain so that you may gain links to your domain, which will increase your domain authority.  
Of course, the amount of authority passed on to your domain from an external link depends upon the authority of the external site that links to you. You may want to use Open Site Explorer and SEMRush to analyze the quality of a website.
You might think an HVAC company would have a hard time creating a graphic that their customers would be interested in.  But what if the perfect subject matter is not directly in your niche, but instead in a related niche? 
An HVAC company out of Washington DC successfully utilized this infographic about indoor air quality to market their HVAC website.
Obtain a membership to thinkstock stock exchange, or another stock photography and video library.  There are free libraries out there as well; just start searching and you'll be inundated with the available choices.
Do NOT merely perform a Google Images query for your keywords and start saving every image displayed in the results. As tempting and easy as this may be, most images returned in a search engine query will be copyrighted. 
Instead, search through Creative Commons content that has been designated as legally shareable.
Always reference your sources! You need to share URLs to all of your data sources, whether text or image.
Name and description. Extremely important for SEO
Put-dashes-between-words-to%20avoid%20compatability%20problems.jpg  
As the sentence suggests, using dashes instead of spaces when naming your file avoids compatibility issues when sharing the file.
Write a one paragraph description to post with your image. Most image directory and social bookmark sites include space to add a description and sometimes a caption to your image.  An effective image description will contain the keywords you intend to use when marketing the graphic.  
Hashtag to #relevant topics/niches when sharing on #social media/social bookmark sites. Don't just add a string of hashtags at the end of a post #boring #lookslikespam #unprofessional #imnotclickingonthis.
Instead, tweet a normal, #conversational sentence that just so happens to have relevant #keywords with hashtags in front of them.   
Try creating your own made-up word to more easily track your posts, such as #graphadelic. If you use a previously unused hashtag to label your posts, you can search for that hashtag and easily find your content without having to filter through the competition's posts.
To launch this infographic about hair-loss, Dr. Love marketed on social media and social bookmarking sites with hashtags like #hairloss #hairtransplant #bald #menshealth and #infographic. 
The niche related hashtags will direct the graphic toward colleagues in the same industry who might also want to post your handy infographic on their blog.  The #infographic hashtag will ensure that content marketers will have the chance to see the image and perhaps feature it on their blogs as well. 
Any actions resulting in a quality backlink to your site will increase the domain authority of your site.
Set up Google alerts to track external publishing of your content
First, create a Google alert for the file name of your graphic. For demonstration purposes, we'll say that we named our picture with Kristen, "fanclub-leader-swoons-vampire-actress-Kristen-Stewart.jpg". 
We've set up our original Google alert for that exact phrase, and we've published the graphic on our blog and added it to the imgurl.com library.  
Now, collect the page links of the image directory sites you've submitted to and also set up alerts for their URLs. For example, our post uploaded to imgurl.com will have its own page URL: imgurl.com/fanclub-leader-swoons-vampire-actress-Kristen-Stewart/. 
Tracking these URLs will ensure that you'll be notified if someone links to your content, even if they link to the image directory instead of your own page. As this happens, contact the publishers and request a link to the original content, stored on your website domain. 
Therefore you gain another backlink to your domain, and help to increase your website's authority.
Creative commons license
Add your image to the CC directory and place CC logo onto graphic. Adding your content to the Creative Commons directory will help to spread your content among those interested in obtaining shareable content. 
CC also helps ensure that users who utilize your material will link to your original source material, giving you more valuable links!
Launch graphic on client's website first, then image directories, social media, and guest blogs
The goal of content marketing is two-fold. The first goal is to build links and klout to your website and social media accounts. 
The second goal, included in the first, is real-life customer conversion. There are strategies that can help your website ranking but have a tiny chance of converting a real customer, and there are strategies that are pointedly directed to your customer demographic and designed to convert internet users into your customers.
An Oklahoma roofing and construction company utilized a local artist to design a political-cartoon type graphic and create a caption contest, to spread around social media.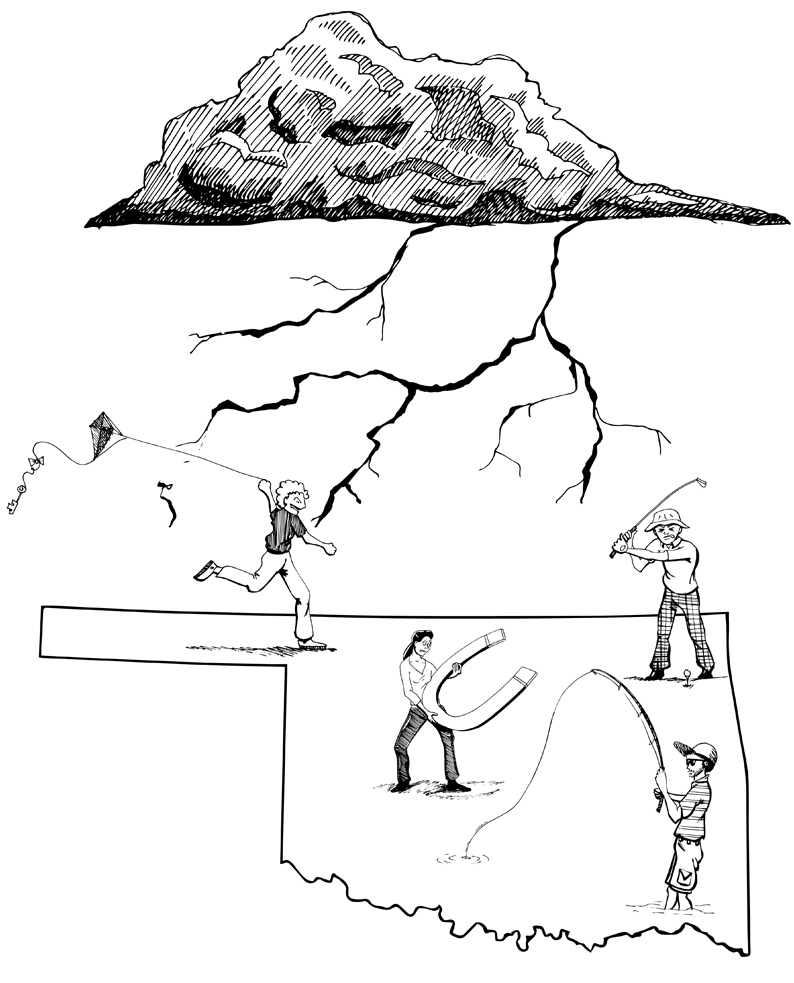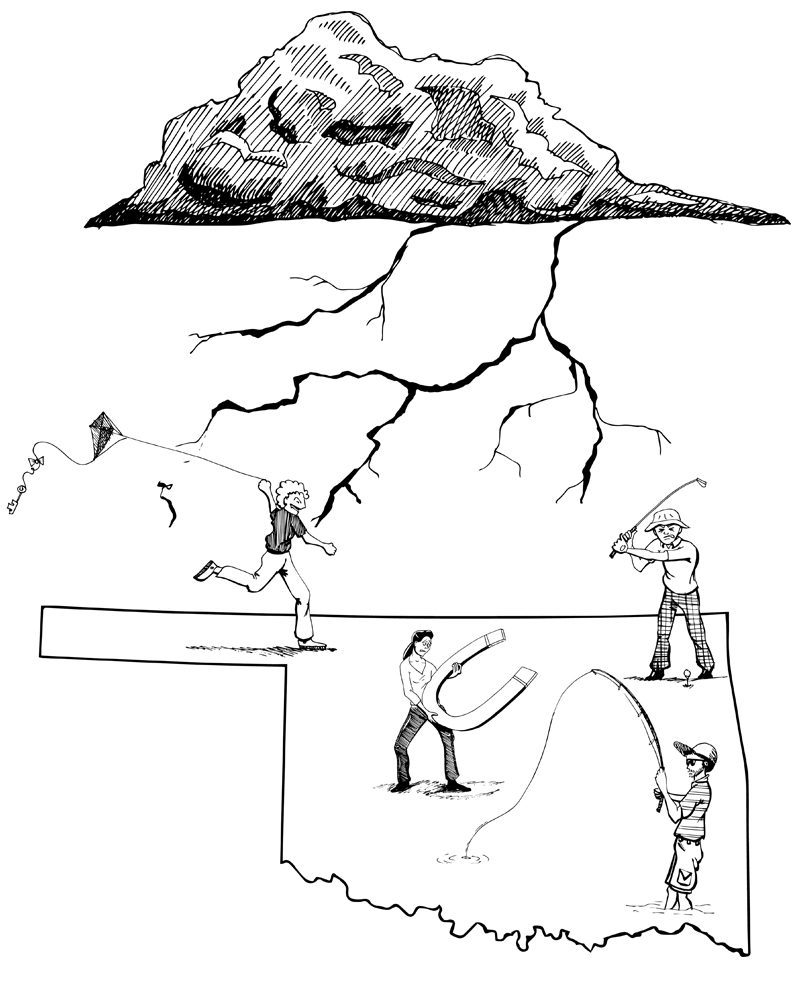 Maintain your online industry relationships
If you want to become a trusted resource for information and authority in your industry, you'll need to spend a chunk of your efforts on marketing yourself, your blogs, and your multimedia content to other online industry-colleagues. 
As mentioned before, offer free blog content to others in your niche in return for backlinks. And don't be afraid to use the telephone- that weird, oblong gadget on the corner of your desk.  Clients and webmasters like to know that there is a real person behind a request for backlinks.  
Finally, when an industry contact publishes your graphic on their blog, re-tweet and share their article as much as possible.  Sharing links to their own domain will benefit the two of you, and it will help to develop a relationship for future collaboration.
Reverse image search
After you've spread your graphic around the web for a week or so, occasionally do a reverse image search on Google to see if anyone has used your graphic without linking to the original. When you find an un-cited instance, contact the webmaster and request a link to your domain, where the original content is stored. 
If you follow these seven guidelines, you'll be on your way to becoming a Content Marketing All-Star. Welcome to the club!
Image credit: Ed Bierman via Flickr.