Has virtual currency jumped the shark, or has it become such a mainstream phenomenon that the ability to free virtual currency might be enough of an incentive to get some individuals to eat their broccoli? Social gaming company Zynga and Green Giant, the vegetable company owned by General Mills, are going to find out.
The unlikely pair have teamed up to offer purchasers of Green Giant products free virtual currency that can be used within Zynga's most popular game — Farmville.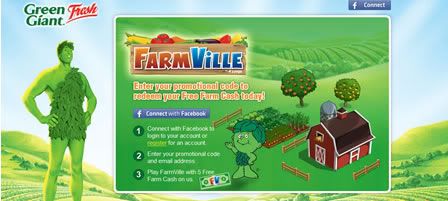 According to trade publication The Packer, some Green Giant customers who purchase the company's produce will open their packages to receive a code that can be used within Farmville to redeem free virtual currency. That virtual currency, of course, can be in turn used to buy virtual goods, like tractors, that enhance game play.
This month, the Zynga and Green Giant are distributing the redemption code in packages of Green Giant produce sold through Target stores. Up to 3m codes worth around $1 each will be distributed. In June and July, the codes will make their way into packages sold through other retail outlets. According to Jamie Strachan, whose company has the rights to distribute under the Green Giant Fresh brand, Green Giant is "a really good fit with the game." He says the promotion offers a way to reach an important demographic (females under 35) and didn't require a lot of extra work on the part of retailers. His goal? "What we're trying to do is encourage shoppers to have a whole new reason to shop at participating stores," he says.
While it remains to be seen how much of an incentive free Farmville virtual currency will be to buy vegetables, the promotion is quite clever. And since Zynga can easily track redemptions, Green Giant won't have to guess when it comes to determining whether the promotion is a hit with customers. More importantly, the promotion highlights just how prominent virtual currency and games like Farmville have become in the mainstream. Of course, virtual currency's offline presence isn't new, but Zynga and Green Giant have turned the tables by attempting to use virtual currency as an incentive to buy a physical product.
If it works, more companies that you wouldn't naturally expect to have an interest in virtual currency might decide that virtual currency-oriented promotions are an alternative way to give consumers a 'carrot' for buying their products.