Three letters many of the online publishers I know love to hate: CPA.
The reason is simple: with CPA deals, the publisher only gets paid when
the advertiser makes money. Although in theory there shouldn't be
anything wrong with this (we'd all like to believe that our properties
deliver ROI for our advertisers), the reality is that most publishers
don't feel comfortable with the risk.
But while major content brands, analysts and the like have been focusing their attention elsewhere, CPA advertising has proven to be a real money-spinner for quite a few companies who have found that, when applied appropriately and effectively, CPA can deliver much higher eCPMs than CPM advertising.
Companies like TrialPay, Super Rewards, Offerpal Media and CheckoutFREE are not exactly 'new' but thanks to today's robust consumer internet, they give new life to mass-market CPA promotion by letting publishers and other online businesses easily leverage CPA promotions in more effective ways.
At a time when many businesses that were previously ad-supported are considering adding premium services and trying to find new ways to make money as traditional CPM advertising, CPA is well worth a second look.
How to Leverage CPA
The most effective use of CPA today comes from giving your users the ability to get something for 'free' by subsidizing the transaction using the CPA acquisition fee.
Instead of paying directly for your product or service, the user signs up for an offer through a CPA promotion made available on your site. When you limit the CPA promotions you run to those that pay out at least what your product or service would cost the user directly, you are guaranteed to make the same amount of money you would have made had the user purchased from you directly. Since your users may not be willing to pay directly for your product or service, giving them a way to acquire it through the completion of another purchase, for instance, is very appealing. For consumers, it is like killing two birds with one stone.
There are a few points at which CPA promotions can be integrated into your website. A few of them:
At the point of sale.
Upon some sort of abandonment (eg. the user leaves the payment page).
As an upsell to existing 'free' users who have never purchased anything before.
At the point of cancellation (eg. as a means to attempt to retain a subscriber, etc.).
One of the most compelling aspects of CPA promotions from a business model standpoint is that oftentimes the promotions pay out even more than you were charging for your product or service, resulting in greater revenue for you.
There are all sorts of CPA promotions out there, including ones from recognizable brands such as Netflix, American Express and Blockbuster. The companies mentioned above specialize in aggregating them and making them available to your users through relatively painless integrations.
Examples
Here are some specific examples of how CPA is being used by real businesses.
Lavasoft & TrialPay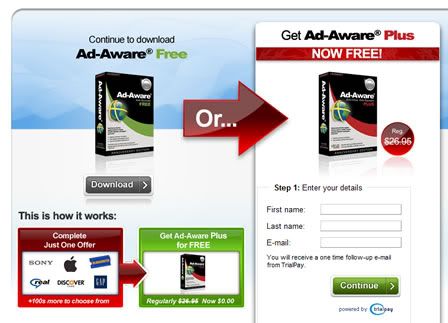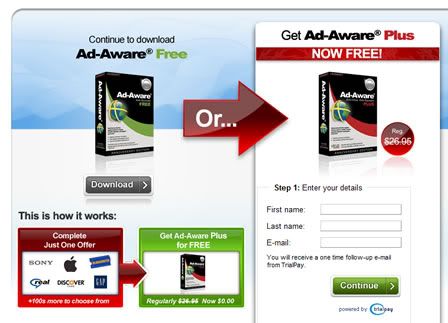 If you want to download AdAware Plus, a popular spyware removal program, but would rather not pay, you can complete an offer through TrialPay. Once completed, you'll be able to download the program at no cost. Lavasoft, AdAware's maker, is compensated through your completion of the offer.
Mob Wars & Super Rewards

Mob Wars, which is rumored to be the most profitable Facebook application, is a role playing game that gives Facebook users the ability to grow from thugs to bonafide mafiosos. With the game's virtual currency, users can purchase all the tools of the trade and by completing CPA offers made available through Super Rewards, that virtual currency is a few clicks away.
Fandango & CheckoutFREE

Fandango is a US-based online movie ticketing service. If you want to see a movie but don't want to pay for the ticket, you can complete an offer through CheckoutFREE to receive your movie ticket at no cost.

Aeria Games & Offerpal Media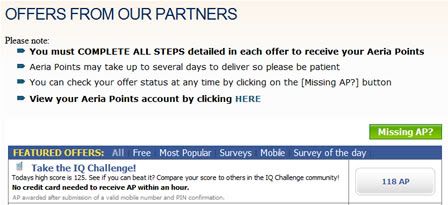 Aeria Games, which has a community of over 5 million users playing its online games, uses Offerpal Media to give those users the ability to earn Aeria Points, a virtual currency, for free. By completing various offers, Aeria Games' users can increase their level of participation without having to pull out their wallets to buy their virtual currency.
Conclusion
There are many ways to integrate CPA offers into your product and service offerings. You're really limited only by your imagination.
From virtual goods to physical goods, software to subscriptions, CPA has the potential to play a significant role in the revenue mix of many online businesses. If you've been relying on CPM advertising or contextual ads and are feeling the squeeze due to the economy, CPA may be just what the doctor ordered.