YouTube
Videos are huge, and by now you might already know it. Many brands are already using YouTube as a parallel channel for their marketing and branding efforts.
Be it tutorials, reviews, or plain business-focused videos, content marketing has never been the same again with video. The numbers are on the wall: YouTube reports that there are more than 1bn unique visitors to YouTube each month trying to peruse from a humongous list of more than 6bn hours of video each month.
Each minute, more than 100 hours of video are uploaded across 56 countries and in 16 languages.
Video is a great way to narrate stories, persuade prospects, impress your audience, and take your business to the next level.
Instagram
Who would think photos would work to help you establish your brand, allow for trickling traffic, help recruit talent, and work to spread your content marketing efforts?
Instagram is an unlikely entrant in the list of ways for you to distribute your content. We declared earlier, thanks to research from Simply Measured, that more than 40% of brands are already using Instagram.
David Moth listed 9 brands that make great use of Instagram a few months ago. Jessica Miller-Merrell also lists eight Employers using Instagram to recruit socially.
Instagram is a new way to introduce your brand to the market or establish your brand's presence. Debbie Hemley has a huge list of 26 tips to help you get started on Instagram.
Are photos are worth a thousand words? Oh, yes.
Tumblr
Tumblr, by itself, is growing by leaps and bounds. According to Josh Sternberg at digiday.com, there are at least 102m Tumblr blogs currently with a total of 44.6bn posts.
Tumblr collectively amassed 29.2m unique visitors in March 2013 racking up 6.6bn page views.
Josh also points to at least five brands that get their Tumblr strategy right where each of these brands are doing just what Tumblr is good for – visual story-telling, parallel content, more engagement along with gaining massive traction.
Podcasts
Sometimes, text and video won't do. You'll have options to mesmerize your subscribers, customers, or readers even when they aren't near a computer. If they have a mobile device, they can still stream in content you produce through podcasts.
Gini Dietrick at Social Media Today explains how to promote your podcasts. You may also use a Mac-only approach through iTunes where you can produce podcasts directly.
More voice. More interested customers. More engagement.
Apps
No matter what your business is, you'll find that there could be a possibility of higher engagement when you deploy an app. Anything from a blog or a magazine to a full-fledged utility app are all ways to increase the value you provide for your readers or customers while increasing the overall time they spend on these apps.
Mobile apps are all the rage today. According to research from Monetate Q1 2013 Ecommerce Quarterly, the mobile's share of web traffic is at 25% and growing.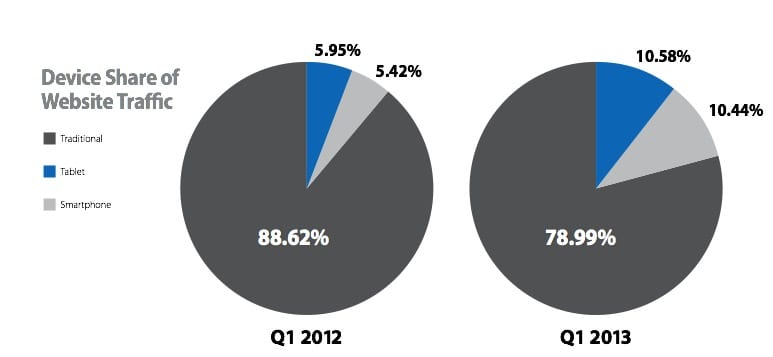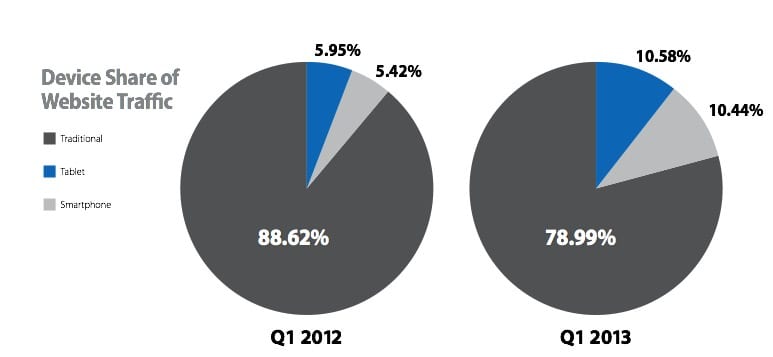 Millions of apps already exist and businesses are already reaping the extended engagement and involvement possibilities apps provide.
Do you have an app or not?
Wholesome email campaigns
While email copy is one way of engagement, you could also provide or deliver other forms of content using email campaigns. From list building to email engagement over time, many businesses use the "almost intimate" approach that email marketing provides to a highly targeted, niche, audience of interested subscribers.
Email campaigns are also used for delivering other forms of content such as blog lists, aggregated list of content, eBooks, and reports. Some emails even come with videos embedded within.
How do you use your email campaigns?
Guest Blogging
Guest blogging is effective, clean, multi-beneficial, thoroughly expansive, and scalable.  While it's hard work, labor intensive, and demands even more work related to developing content, it's a content marketing strategy that has huge payoffs.
Every guest post published is the result of an actual transaction between two known people in a network (the knowing happens when guest bloggers reach out, of course). Unlike the "spun-like" content on article directories and mutually-pushed link exchanges, guest posting calls for multiple requirements for publishing a single blog.
Businesses – small or big – benefit from guest blogging. You could be the Freddy Krueger of blogging like Danny Iny is or take any measure of approach to guest blogging as your budget permits.
Every guest blog is added exposure, more eyeballs, increased credibility, and possible traffic to your website.
Community publishing
Did you know that popular communities allow you to publish your own content apart from your regular community interactions? LinkedIn Today allows influencers to post great content promising a viral spread. It also has sponsored content (you'd have to pay for it as you'd for normal marketing).
Quora has Quora blogs – allowing you another well-trafficked and popular channel for parallel publishing.
Where popular communities exist but no blog features available, your content made available on communities works to your benefit. Some brands and businesses even use community-building platforms such as QHub.com and Getsatisfaction.com to create their own communities based on brands, products, or services.
What will you call your community as?
Third-party, partner, and offline publishing
Your content could also reach out to more audience through third-party publishing venues such as SlideShare.net and other video hosting services such as Vimeo. You could create content specifically for each of these third-party publishers. You could create partnerships with other content powerhouses and publications to break your way into partner publishing.
With all the rush offline, there's still a sizable audience that doesn't have access to (or cannot find enough time to access) online-based content. Tapping into offline channels such as print publications, web-to-print content marketing, and getting some good, old press coverage on offline media still works like a charm.
Offline media is not limited to magazines and newspapers; you can also publish books to give your brand much more credibility.
What are your favorite content marketing channels? Where else do you plan to place your footprint apart from your own blog, website, and social media networks? Share your ideas with us.