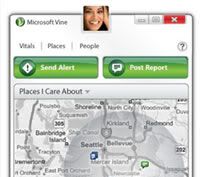 Here's an obvious but sometimes forgotten social media factoid: the most successful services of the past several years have been created by upstarts.
Microsoft, Yahoo and even Google? They haven't had much luck building a homegrown success. The big names in social media, from Facebook to Twitter and MySpace to YouTube, were all created by little guys.
There are plenty of possible reasons, all of which could be debated to no end. But past doesn't necessarily have to be prologue and an interesting new product from Microsoft called Vine has some thinking that the Redmond software company could have its first social media hit on its hand.
Vine is described as a "hyperlocal, personalized message and alert system" or as Brier Dudley of The Seattle Times calls it, "Twitter+Facebook on steroids".
Originally developed by Microsoft in the wake of Hurricane Katrina as a possible technology-based solution for community emergencies, Vine is a slick desktop 'dashboard' that resembles an IM client. Upon logging in using a Windows Live ID, users are presented with a map displaying the locations they've selected as being important. Geographically-relevant news articles are aggregated, as is status information about other users who are in your network, which can also be pulled from Facebook. Alerts can be sent to people in your network, and different groups can be created to make alert targeting possible. 'Reports' functionality makes it possible to post information and to make it available to only the people in your network who you want them to be visible to.
Microsoft is taking an open approach with Vine and states:
Microsoft Vine aims to create an inclusive network so that ultimately anyone can participate, through a social networking application such as Twitter or Facebook or using e-mail, any computer connected to the Internet, or a mobile phone, kitchen phone or a special needs device. We want people to participate in the way that feels most natural to them. And to accomplish this, we will extend the tools that exist today.
Starting in May, Microsoft will make Vine available as part of a limited beta. Those interested in the possibility of participating can request an invitation at www.vine.net, which also has a nice demo video.
While it's still far too early to say whether or not Microsoft will have any success with Vine, the program looks (surprisingly) promising. If Microsoft can deliver something that is intuitive, truly plays nicely with other services and is positioned correctly in the marketplace, it just might be able to attract enough users to make Vine a hit. Of course, all of those things are easier said than done so time will tell.