Digg, the popular content sharing website that lets users 'vote' for their favorite content on the web, is a favorite of online publishers. Get Digged enough and you might hit the Digg homepage, which can drive tens of thousands of visitors in short order.
Currently, there are two ways to Digg content: on the Digg website or through a button that publishers place on their web pages.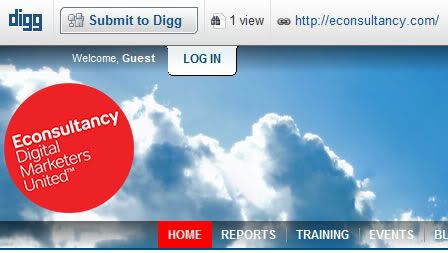 But all of that is changing with the launch of the DiggBar. The DiggBar, as the name suggests, is a bar that gives users easy access to Digg directly from the browser interface. With the DiggBar, users can Digg stories without having to leave the site they're on, making the process easier and quicker.
But that's not all. In addition, the DiggBar lets users do a number of other things, including:
Create shortened URLs.
Share stories via Twitter, Facebook and email.
View comments about stories without leaving the website they're on.
Find related stories without having to go to the Digg website.
View analytics related to how many times a story has been viewed.
Here's how it works: to generate a DiggBar, simply type http://digg.com/ before any URL (eg. http://digg.com/http://econsultancy.com) and Digg will automatically generate the shortened URL and the DiggBar. To avoid having to generate the DiggBar manually, there's a bookmarklet you can add to your browser.
Digg is providing an API for its URL shortening functionality, which will let developers leverage Digg's new service in their applications. With URL shortening, an API and analytics, Digg is setting itself up to compete with other URL shortening services like Bit.ly, which just raised $2m, and could see itself become a bigger part of the Twitter ecosystem.
The DiggBar makes a lot of sense and it's implemented in a nifty fashion, although I think a dedicated browser add-on (not just a bookmarklet) would have been nice too. If it works out and enough people use the DiggBar, the site should see more Digging.
That said it's unclear what this really does for Digg as a business. In fact, if Digg's users use the DiggBar in droves, Digg could conceivably lose ad revenue as users would be interacting less frequently with the Digg website where advertising is displayed although Allen Stern of Center Networks thinks the exact opposite might be true. I guess it depends on how many people end up using the DiggBar and how they use it.
So far I haven't seen any shortened Digg URLs on Twitter but it's been less than a day so it's too early to tell whether this will be a boon for Digg or a bust.