Many brands engage in ethnic marketing and for good reason: it can be an effective marketing strategy. But can ethnic marketing go too far? That's a question that could be asked when it comes to something McDonald's is doing: building websites for different ethnic groups.
The fast food giant has built two websites, one targeting African-Americans and another targeting Asian-Americans. Both seek to highlight the ways in which McDonald's is working to serve the African-American and Asian-American communities.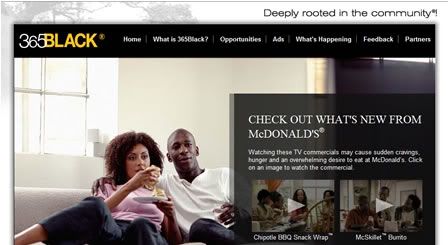 365Black.com states, "At McDonald's®, we believe that African-American culture and achievement should be celebrated 365 days a year — not just during Black History Month". The site is described as "a place where you can learn more about education, employment, career
advancement and entrepreneurship opportunities, and meet real people
whose lives have been touched by McDonald's". Myinspirasian.com was built to celebrate Asian Pacific American Heritage Month and details McDonald's involvement in the Asian-American community.
While the fact that a brand like McDonald's would create such websites might seem politically incorrect to some, the reality is that ethnic marketing is commonplace. Many countries have diverse populations and for brand marketers to effectively canvas them, different kinds of messages are often appropriate; one-size-fits-all messaging is very tough for brands to develop when
marketing to a broad national market. Hence the increasing importance of ethnic marketing.
The real question here is: are 365Black.com and Myinspirasian.com examples of good ethnic marketing? I'd say 'no'. Throwing stock photos of African-Americans and Asian-Americans onto a website isn't meaningful. McDonald's "Asian Phrases Challenge" Flash game is of questionable value. Copy such as "Like the unique African Baobab tree, which nourishes its community with its leaves and fruit, McDonald's has branched out to the African-American community nourishing it with valuable programs and opportunities" is ridiculously over-the-top. And, in the case of Myinspirasian.com, the site's name itself is potentially offensive.
If we have to come up with a simple explanation for why 365Black.com and Myinspirasian.com seem so awkward, it's this: McDonald's is trying too hard to demonstrate that it's serving the African-American and Asian-American communities. In essence, McDonald's is marketing its ethnic marketing.
The problem is that effective ethnic marketing isn't just about marketing. It's about making a brand 'compatible' with and appealing to a particular group of people. As an example, I'll use my country (Chile). If a brand wants to successfully market a consumer product in Chile, it would do well to understand the nation's culture and the people. Everything from a product's packaging to its delivery can convey the fact that the brand understands the values, needs and desires of Chilean consumers. The brand doesn't need to create a website (hotlikechile.com?) detailing how it understands my country and its people; that it does will be evident in the way the company operates. If the company doesn't 'get it', no amount of carefully-chosen stock photos, (translated) marketing slogans, sponsorships, endorsements, etc. will make a difference.
In short, ethnic marketing has to be backed up by the 'real deal'. The brand's culture, values and symbolism need to be aligned with those of the group. The brand's engagement with members of the group has to be authentic. And the brand shouldn't devalue its involvement with the group's community by overmarketing that involvement.
Unfortunately for brands, the risks that come with ethnic marketing are much greater than with traditional marketing. Here, you can be sure that some will call 365Black.com and Myinspirasian.com politically incorrect, demeaning and perhaps even racist. Those criticisms may be far too harsh in my opinion but that's exactly why ethnic marketing needs to be done thoughtfully.