The internet is arguably the most powerful tool for generating leads the business world has ever known. Using little more than HTML forms, it's possible to set up a simple mechanism for generating leads on a website and thanks to cost-effective internet advertising options, reaching an audience of potential customers has never been easier.
But even given these things, generating quality leads online isn't always as easy as it looks and a lot of leads are lost because the forms and web pages designed to generate them are poorly implemented. Here are eight tips for making sure you're maximizing your lead gen conversions.
Collect the Right Information
The most valuable leads are qualified leads. Acquiring qualified leads starts with collecting the right information.
An easy way to determine what data you should collect is to break the fields you're considering into three categories: required, nice to have, unnecessary. 'Required' fields are those fields that are designed to qualify, 'nice to have' fields are those fields that can help identify the most promising leads, and 'unnecessary' fields are those fields that you might want to collect in an ideal world but don't inherently help you qualify leads.
Promote the Value Proposition
If users are going to hand you qualified sales leads, chances are they'll want to know what's in it for them. So be sure to tell them. Perhaps you're going to provide them with a price quote within 24 hours. Or maybe you're going to let them download a free whitepaper. Whatever the case, make it clear that there's value being provided in return, as the BuyerZone form below does.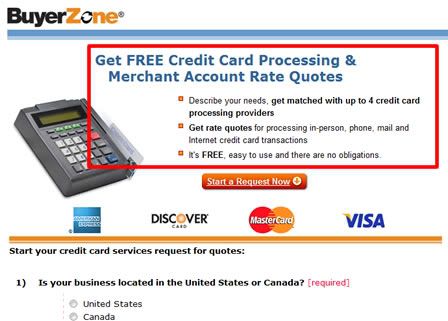 Break It Up
When you need to collect a lot of information, it's easy to create forms that are overwhelming. Not surprisingly, overwhelming forms can kill conversions.
To avoid this fate, consider grouping related data fields on individual pages and paginating your form. When doing this, it's usually a good idea to give users some indication of the total number of pages they'll need to go through and which page they're currently on. You can see that Progressive Insurance has done this with its auto insurance quote request form.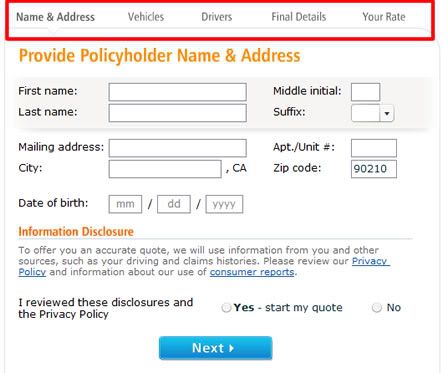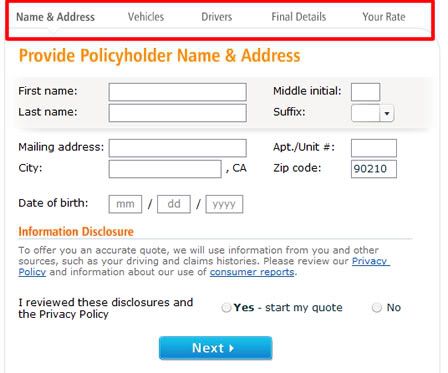 Focus on Function
Your form's function can play a big role in your conversions. A few important things to pay attention to here:
Use the right HTML form controls. You'd think this is common sense but if I had $1 for every time I've seen radio buttons used when checkboxes were more appropriate, for instance, I'd be a very rich man. At a higher level, consider how you can use controls to make the user experience easier while minimizing input errors and ensuring that you're receiving consistent data. Example: instead of asking a user to enter month/day/year into text input controls, consider providing a select control for both the month and year.
Make sure that it's easy for users to progress through each form control in an orderly fashion. Use of the tabindex value with HTML form controls if necessary.
Consider providing instant feedback. With JavaScript, it's easy to validate form data on the fly and with AJAX, it's easy to have your form interact with the server if necessary to provide a more responsive experience.
But Don't Forget to Pay Attention to Form
When generating leads, form can be just as important as function. An attractive, well-designed form with nice graphical touches can make all the difference. A good example of a bad design that leaves a lot to be desired aesthetically can be seen below.


Label and Assist
If you require certain information, be sure to provide an indication. At the same time, if there's optional information that is beneficial to both you and the user, be sure to indicate that too. And when you think that certain information requested may be confusing to some users or warrants a more detailed explanation, a help popup or rollover can help save a conversion.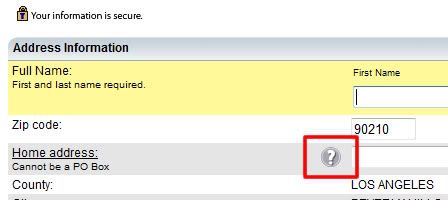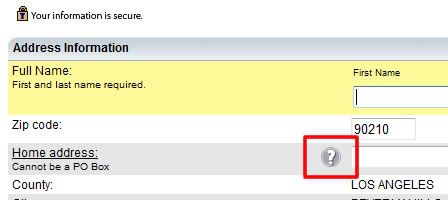 Make Yourself Available Offline

If you really want to generate more leads, giving someone the ability to pick up the phone and call you can be a great way to accomplish it. Obviously this isn't always possible and it can be costly if you don't have the time and human resources available to deal with a larger volume of unqualified leads. But if you do and you implement a good screening policy to qualify phone leads, offline
Progressive Insurance provides another good example of promoting offline availability:


Follow Up Fast
A qualified lead is only as good as what you do with it. In many industries, the useful lifespan of a lead is not much longer than a goldfish's memory. So once you've got a hot lead, don't just sit there — do something with it!