Done right, it's a mix of peer approval and gamification. Retailers, usually selling high-end products, can cement their relationships with their most valued customers whilst using social proof to bring in new customers.
This peer approval also creates more vociferous brand advocates, a whole host of content assets, more information about hero customers and, in the most sophisticated examples, a route to market for new and exclusive products.
1. Made Unboxed
Made Unboxed was a trailblazer for social retail on this scale, launching in July 2014. Customers upload photos of their home, which are tagged with product listings.
Comments are enabled and, astoundingly, you can even view a map of all Unboxed members and purchased products, allowing you to click on a marker in your area and contact that particular customer to ask them a question.
Essentially, Made isn't just a furniture store, it's trying to create an interior design platform that appeals to passionate home-owners in a way other retailers don't.
2. The Net Set
The Net Set is the big daddy of social ecommerce ventures, and is likely only achievable for a billion dollar business such as Net-A-Porter.
The standalone app allows users to upload their own photos to share styles and also generate product recommendations (which the app does automatically).
Influencers such as models and designers can obviously have a huge impact on sales as they add Net-A-Porter products to their wishlist, which are then seen by their followers.
New favourite products sell like hotcakes, partly as a result of mailers that let users know when favourite products are back in stock. The burgeoning user base had apparently hit 100,000 in 2015, after only launching in May of that year.
3. Belkin
Back to something simple. Belkin asked its customers and staff to use Instagram to share pics of their phones' LEGO Builder Cases.
These snaps were incorporated on the product landing page, adding some strong social proof.
Many retailers have used a similar approach but I think it works particularly well in this instance. The photos help to bring the product to life, emphasising the fun you can have with it.
Image via Nosto.
4. Zalando
I wrote about Zalando last month and the company's aim to become a fashion platform through its many sister apps and startups.
The main Zalando ecommerce site uses a feature that sits somewhere between Belkin's and Net-A-Porter's.
Instagram users share their style with one of the appropriate hashtags. The ecommerce team then manually curates the best photos on Zalando, which then link to identical or near-matched products available to buy.
Users are keen to be featured, increasing the visibility of the retailer on Instagram.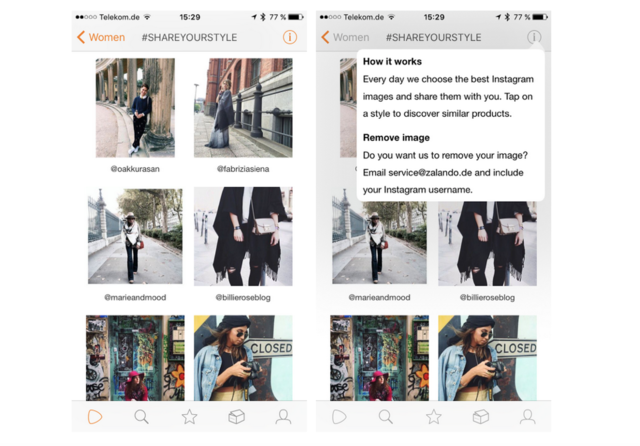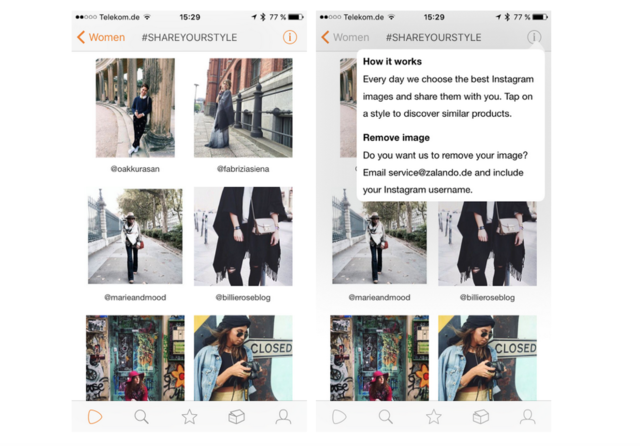 5. AUN socks
AUN anti-odour socks began selling just one product (it now has 10 or so) through a WeChat store.
Asia is a market where social and commerce have truly blended (something I hinted wasn't possible in my intro), but there's also another interesting angle – using fans or just plain WeChat users as direct salespeople.
The AUN account uses chat groups to manage the sales reps and gives awards to top performers.
However, direct selling is causing a bit of a problem for WeChat, with pyramid schemes recently gaining bad publicity for Tencent. Time will tell if this model of direct sales takes root, but many think it could revolutionise the old Avon concept.
(Thanks to WalkTheChat.com for some of this insight on WeChat)