In most parts of the world, Google may be the most dominant search engine, but as search evolves, Google will have to compete with other players for dominance in key vertical search markets.
The stakes, in many cases, are high. The Mountain View-based company's attempted $700m acquisition of ITA Software, for instance, demonstrates just how important vertical search is to Google.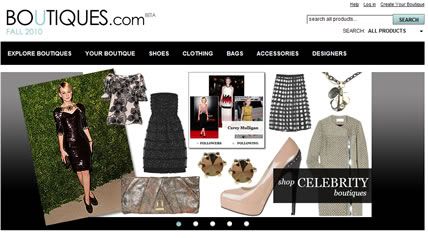 Fashion may not be as important a vertical as travel, but today Google launched an interesting new vertical search effort in the fashion space with the launch of Boutiques.com, "a personalized shopping experience that lets you find and discover fashion goods."
Boutiques.com is the product of former Like.com employees. Earlier this year, Google acquired Like.com, a visual search startup, for a reported $100m or more. That visual search technology is the foundation for Boutiques.com. On the site, fashion lovers can filter their searches by a number of visual criteria, including silhouette, pattern and color.
Additionally, Google "partnered with taste-makers of all types". The Official Google Blog explains:
We asked them not just to curate 10-50 great items they loved, but also to teach our site their style and taste. They did this by telling us what colors, patterns, brands and silhouettes they loved and they hated. They took a visual quiz that taught the site to understand their style genre: Classic, Boho, Edgy, etc. Our machine learning algorithms use this information to enable you to shop all of the inventory in the style of that taste-maker, on top of the 50 items they've hand-curated.
Not surprisingly given Google's ownership of the site, there's an advertising-based business model for Boutiques.com; a disclaimer at the bottom of the site's pages notes that "Boutiques.com charges merchants to include products on this website in most cases."
But outside of that — and the Beta label — Like.com's influence is apparent. Boutiques.com doesn't look at all like a Google product. The site's design may not be 'cutting-edge' but it's a lot more sophisticated than the relatively sparse and/or utilitarian interfaces we're used to seeing from Google. And Google didn't throw its new site up under a subdirectory like google.com/fashion; it has a fashionable domain name of its own.
The question, of course, is whether Google can succeed with this model. Fashion is a competitive vertical generally, and it will be interesting to see how big a following a standalone site like Boutiques.com can attract. Right now, it doesn't appear that Google has integrated Boutiques.com in any way with Google.com or artificially boosting Boutiques.com's ranking. We'll see if that changes.