In late August, we reported on a lawsuit filed against Google by LendingTree alleging that Google was planning to offer an online lead gen service related to mortgages using technology offered by a LendingTree vendor that was contractually forbidden from working with LendingTree's competitors.
While the status of that lawsuit is unknown, it is now official: Google has entered the lead gen business.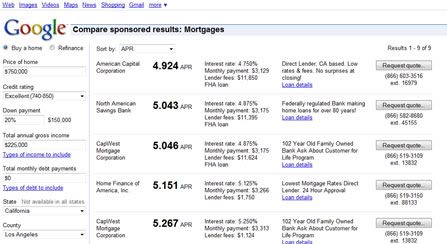 Last Thursday, Google announced the launch of AdWords Comparison Ads:
Today we're excited to begin testing a new feature of AdWords called AdWords
Comparison Ads, which lets users compare multiple, relevant offers more easily.
Comparison Ads is part of our continuing effort to make ads more relevant and
useful to our users and to help you, our advertisers, reach the people who are
most interested in your products and services.
Comparison Ads' first market: mortgages. For select searches, Google is now displaying an ad unit that invites users to compare mortgage rates offered by competing providers. Users can also access the comparison service directly via http://www.google.com/comparisonads/mortgages.
The comparison service allows users to view actual mortgage rates being offered by various providers based on criteria such as home price, credit rating, location and down payment. If interested in a specific provider, users can call a toll-free number provided by Google to reach the provider, or they can fill out a form to receive a call from the provider. Google anonymizes users' phone numbers in an effort to protect their privacy. Google charges providers on a cost-per-lead basis when a user calls the toll-free number or requests a call back.
Right now, Comparison Ads is available in select parts of the U.S. and to select providers. Google says that coverage and participation will increase over time. Google also tentatively plans to go beyond mortgages into other markets. Google's Nick Fox told Danny Sullivan of Search Engine Land:
We don't have anything to announce in terms of the future areas this will expand
in. We'll learn from the mortgages experiment, how well it is working, where it
is working and based on that, we'll have a better sense of other places to
expand the product to.
Make no doubt about it: Google's move into the lead gen space is a big deal. And if Google succeeds with mortgages and expands into other lucrative lead gen verticals, watch out. As I wrote in my original post about this subject:
In the mortgage space, many of Google's advertisers are themselves middlemen in the business of generating leads. If Google disintermediates their market by building an online loan marketplace of its own, Google would be competing head on with its own customers. Maybe this would prove to be worthwhile, but it could also backfire.
In theory, Google could 'usurp' its SERPs to drive massive amounts of traffic to its lead gen services. Massive amounts of traffic that other lead gen businesses currently pay Google significant amounts of money for on a cost-per-click basis via AdWords. In the mortgage space, Google is essentially already competing with its own advertisers and while there's enough money in the lead gen space to keep a lot of people fat, I'm sure there's a lot of concern about just how much of the market Google might be able to disintermediate if it really wants to.
Beyond the immediate impact to advertisers, there are a lot of additional implications that could evolve out of Google's entry into the lead gen business. Two that spring to mind are:
Greater potential of regulatory scrutiny. It's not hard see some similarities between how Microsoft took advantage of its OS monopoly to take over and dominate the market for web browsers and what Google could conceivably do with lead gen. After all, if Google uses its dominant search position to steer users to services its owns, someone will eventually make the argument that it's abusing its dominant position too.
The possibility that Google's relationship with consumers will change. Providing a search engine and running a lead gen business are two very different things and Google's relationship with consumers could very well change as it goes from referring consumers to relevant websites to directly connecting consumers to businesses. On the surface the distinction may be subtle but selling advertising and selling leads entail a very different consumer relationship and Google's trust is potentially on the line.
Fasten your seatbelts. If Google succeeds with Comparison Ads, this could get real interesting real fast.