What is social wi-fi?
It ensures that anyone using the internet service within a public space such as a bar, cafe, restaurant or hotel, will be required to simply 'like' the relevant Facebook page or 'tweet' about their location to gain access.
No additional sign up or passwords are required.
Once connected, wi-fi analytics serve demographic and engagement information from users to the venue, which allows the business to understand who is visiting and using the hotspot, how long they are online, as well as their age, gender and any other relevant information that they offer in their social networking profile.
This means that when customers are using free wi-fi, the venue can share personalised offers, provide mobile payment facilities, generate a marketing list, track consumer behaviour and build its brand.
Kingsgate shopping centre
If we take Huddersfield's Kingsgate shopping centre as an example, the team there recently chose to offer social wi-fi throughout the walkways of their shopping mall.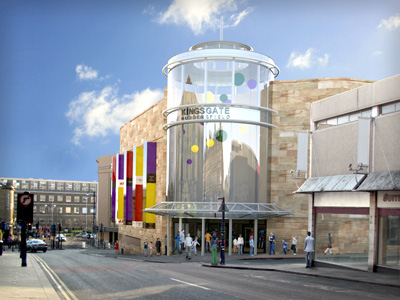 The idea was to provide unobtrusive access without the need for customers to be inconvenienced by entering into detailed and time consuming sign-up procedures. Single-click access via Facebook or Twitter was the simple answer.
In addition, the shopping centre provided a personalised login page that is used to promote offers, communicate news and engage with shoppers on a number of relevant topics.
Kingsgate also regularly edited the social media messaging offered to new and returning customers to generate interest and loyalty amongst those that choose to login via their social profiles.
Jonathan Hardy, Centre Manager, Kingsgate Shopping Centre said:
Kingsgate has benefitted greatly from linked access to data and as a result we are able to improve our targeted marketing to select specific demographic traits and thereby make our campaigns more efficient.
So, how can you make your wi-fi investment work harder for you?
Make WiFi a competitive advantage
Make your customer wi-fi access free. This is probably the most important way to make WiFi useful for consumers.
Ensure consumers actually know that you have wi-fi in the first place (using the appropriate signage).
Make connecting to your network effortless and fast. No passwords to remember, no long-winded multiple steps to log-on.
Make sure that you maximise your branding and marketing opportunities. Encourage engagement with your brand via social login options. 
Brand up the landing page and continue the conversation through offers and email marketing after they leave.
Make it secure
Don't make the mistake of installing a router and then handing out the password! This could put your network at risk, including any EPOS system.
To provide a secure service, you need to be sure that your wi-fi has the ability to separate internal traffic from public traffic, and has a secure log-in process. 
WiFi legal best practice
There are also various pieces of legislation to be aware of in relation to providing public WiFi, which can be summarised as follows:
Data protection. Public WiFi providers need to be aware of their obligations under the Data Protection Act 1998, whenever personal data is collected or processed about individuals. This data should be stored in-line with the requirements of the act and registered with the Information Commissioners Office.
Data retention. The Data Retention (EC Directive) Regulations 2009 assists in the prevention and detection of organised crime and terrorism. It is best practice for service providers to retain certain communications data. 
Illegal online activity. The Digital Economy Act 2010 targets online copyright infringement by end users, covering illegal or inappropriate downloading and file sharing. It's best practice to take the necessary steps to try and prevent copyright infringement, as users have to both register and accept the terms and conditions that cover inappropriate use. 
In addition, the use of content filtering, which is not a legal requirement yet, should definitely be on the tick list for most brands. It ensures that only appropriate and IWF approved public access to the internet is given.
In conclusion, it's always best practice for brands to be cautious and mitigate against any legal risk by ensuring: a) data is collected and stored appropriately, b) user details are collected where possible in order to track any activity back and c) content filtering is provided to discourage access to inappropriate content.
How else can social wi-fi help?
Maximise word of mouth opportunities
50%+ of people that use Social WiFi post messages about brands when logging on so with this in mind, businesses can tailor posts according to current need and target these posts to reach each person's network of friends. 
Integrate your on and offline data
You can ask customers to add in their store card number for additional offers, allowing you to tie in online data with in-store data even further, providing tailored benefits to your customers. You could also offer your partners sponsorship of the WiFi service, and/or advertising space on branded areas, landing pages, in-store or via subsequent emails.
New in-venue tracking technology
It's also possible to add RSSI data into your system, allowing you to see the detail of people's pathways through your location as well as their entry and exit points. By integrating floor plans into the system, you can even heat-map people's movements and draw 'fences' around specific areas, allowing you to trigger your marketing messages.