MIT Tech Review hails Pinterest's terms of use as a genius-level copyright dodge. And while that may be so, its position is disingenuous to the point of irony.
The problem is that "sharing whatever you like" and copyright infringement are, well, sort of the same thing. Especially as Pinterest encourages people to use "nice big versions" of what they find, and to "share from more than one source".
On one hand Pinterest makes it easy to grab images from all over the Internet, even though the terms of use say that's something users will never do.
I've already started a pin board to track the legal issues ahead for Pinterest. But thanks to the terms, using Pinterest could end-up landing me in court for doing so. And that has a few smart users backing off from this hot new social network.
If you'd like an overview of Pinterest, see my earlier post: What Is Pinterest? And Why Should I Care?
But if you have a legal orientation, or care about copyright because you're an artist, or are managing the visual elements of trademark, don't go away. This is where Pinterest becomes intriguing.
The site does not take the expected step to argue that the images on Pinterest are commentary, and part of a discussion that should be protected by the Fair Use doctrine. There would be all kinds of inconsistent rulings, and Pinterest would have a weak hand.
So far the site has done everything it can to finesse the copyright issue.
The set up: Pinterest wants you to use others' images
From the very start, Pinterest encourages you to share. In the welcome note it says you should share images from "more than one source". It talks about being "nice" and repinning others' images. It makes a tool so you can easily post images you like from all over the web. As I've said however, this, and copyright infringement, is the same thing.
Shocked, shocked to find copyright infringement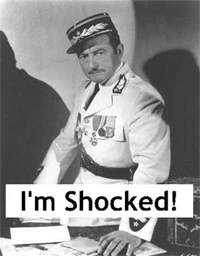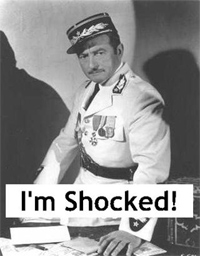 So instead, it relies on its terms of use to 'ensure' — and by that I mean a wink and nod — that all images are owned by the users who post them.
So millions of users, using browser add-its for grabbing photos, are of course just doing this on their own websites, right? And if they're not, Pinterest would be shocked. Just as Captain Renault in Casablanca was shocked to find that gambling was going on within the casino.
By clicking "Accept", users are saying they "either are the sole and exclusive owner of all Member Content that they make available through the Site, Application and Services or they have all rights, licenses, consents and releases that are necessary."
Furthermore, if you do have those rights, you just kissed them goodbye by posting the image to the site, as per this section of the terms:
By making available any Member Content through the Site, Application or Services, you hereby grant to Cold Brew Labs a worldwide, irrevocable, perpetual, non-exclusive, transferable, royalty-free license, with the right to sublicense, to use, copy, adapt, modify, distribute, license, sell, transfer, publicly display, publicly perform, transmit, stream, broadcast, access, view, and otherwise exploit such Member Content only on, through or by means of the Site, Application or Services.
And then the terms turn to your responsibility if ANYONE sues Pinterest for an image you posted. The terms put you, the user, on the hook to "defend and indemnify" Pinterest and its owner.
So, the instructions may be wrapped up in the guise of sweetness and sharing, but the terms of use are the exact opposite. Fortunately for Pinterest, the terms are far less prominent than the bookmarklet that quickly turns 'newbies' into copyright-infringing terminators.
Start the first pinboard for Pinterest lawsuits
Galen Moore at the Boston Business Journal wrote about his foray into Pinterest, in an aptly named article How your business could get sued for using Pinterest. He posted images that real estate firms had sent to the paper of new buildings in Boston. But on reading the terms, he noted that though he had the "use" of the photos, he wasn't their owner and couldn't grant others the right to sub-license them.
Of course, even if Mr. Moore had taken the photos himself, images of creative works such as a buildings or paintings can have underlying copyright issues that would suck us down a new wormhole. Let's just agree than many (and by that I mean most) images on Pinterest aren't being posted by their copyright holders.
Kirsten Kowalski who is a lawyer and professional photographer, wrote an even better titled post: Why I Tearfully Deleted my Pinterest Inspiration Boards. Her review of the terms of use, and concluded that "repinning" the images of others falls under this "grant of license" – so that while the service encourages you to repin other's work, their TOU forbids it without permission.
Is taking down your Pinboard is an over reaction? You can decide. But if you think about this for more than 90 seconds, that puts you among a very small portion of Pinterest users.
Pinterest's disingenuous copyright bet
So what if Pinterest users are infringing copyright, in spite of the terms of use that says users own image rights?
Pinterest has developed "nopin" tags to help those that want to keep their work/content off of Pinterest. The site is gambling that only a small minority of content owners will notice any infringement and request removal of their work.
In most cases, Pinterest is spreading the fame of things people like, and often providing SEO-rich links back to the sites they're taken from.
All of this is based on finesse, born from a shambolic set of terms that has users and Pinterest both subscribing to the total fiction that users own their own copyright.
The entire Pinterest user experience promotes unlicensed use of images, something its terms prohibit absolutely. Do Pinterest's legal people ever even look at the site? Sure, that's where the winks come in.
Since users don't read the terms, they go on generally missing the alternative reality of the agreement they've entered into.
And the presumption seems to be that most content owners will be glad to have their work curated on the service. Perhaps they'll get a link, some traffic, some fame, or even karma.
Besides, who can the sue? Isn't Pinterest a start-up with no clear revenue plan? We'll cover that in my next post, which considers whether all this pinning is good business…