Twitter was borne of a simple idea: co-founder Jack Dorsey was interested in "being able to know what his friends were doing". Since Twitter was launched as a side project of Obvious Inc., a lot has changed.
The popular microblogging service is used for a lot of things. Some of them, like the distribution of breaking news and customer service, are more helpful than others, like shameless self-promotion and spam.
But Twitter's evolution isn't done yet. Yesterday, IZEA, which launched as a business under the name PayPerPost, launched Sponsored Tweets. As the name suggests, the concept is simple: use Twitter as a marketing platform by enabling advertisers to buy "sponsored tweets" that are promulgated by Twitter users.
It's a concept that has, not surprisingly, sparked quite a bit of controversy. While Sponsored Tweets isn't the first to turn Twitter users into marketing puppets, IZEA is a recognizable brand in the world of social media shilling and it has built arguably the most impressive platform in this area with Sponsored Tweets.
Critics of Sponsored Tweets believe that, even with disclosure, Sponsored Tweets corrupts Twitter's purpose and reduce its usefulness.
Despite these arguments, however, there are plenty of Twitter users willing to sell their souls, inclusive of their Twitter streams. Shortly after its launch, I logged into Sponsored Tweets as an advertiser and had no problem finding hundreds of Twitterers making themselves available for my "opportunities".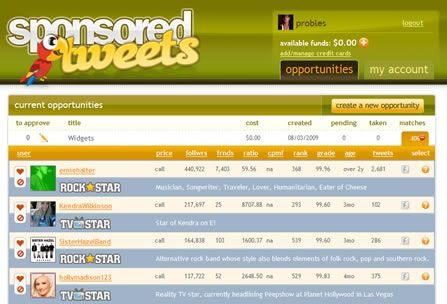 Some are "celebrities". For instance, Holly Madison, Hugh Hefner's ex-girlfriend, star of the reality TV show The Girls Next Door and a former contestant on Dancing with the Stars, is willing to tweet on your behalf to her 135,000+ followers. As you might expect, she apparently won't tweet for just anybody; you'll have to call IZEA to find out her price. Madison is joined by other "celebrities", including Kendra Wilkinson (@KendraWilkinson), Ernie Halter (@erniehalter) and Bethenny Frankel (@Bethenny).
If Hollywood isn't your thing, you can go geek. Jeremy Schoemaker (@shoemoney), Chris Pirillo (@chrispirillo), Loren Feldman (@1938media), Sarah Austin (@pop17) and John Chow (@JohnChow) are amongst the "web celebrities" Sponsored Tweets has in its stable. And if you're just looking for the average prolific tweeter, there are plenty of Twitters with thousands of followers available in the Sponsored Tweets meat tweet market.
Some will cost you an arm and a leg. A tweet from @shoemoney to his 60,000+ followers will set you back $324.60. But that's a bargain compared to the $700 "social media marketing maven" Rob McNealy (@RobMcNealy) wants for each tweet. If you really are on a limited budget, "web celebrity" and "internet entrepreneur and business guru" Neil Patel (@neilpatel) is selling himself cheap – $21.87 per tweet. At that price, the good limbs won't last long so you'd better hurry!
All sarcasm aside, Sponsored Tweets is yet another indication of where social media may be headed (read: down the tubes). For all the talk about authenticity and the value of "conversations", it's pretty clear that plenty of participants are willing to put those concepts aside once a little bit of cash is on the table. Most ironically, those who are willing to 'sell out' include some of the very people who preach the virtues of authenticity to brands.
I don't want to single anyone out so I won't name names, but I found it somewhat amusing that a social media consultant who charges $200 for a half-hour phone consultation and who claims to have written the "bible of social media marketing" (released last month no less!) is charging nearly $300 per tweet to reach her ~8,000 followers. If that doesn't make a statement about where this is all heading, I don't know what will.
While there's nothing inherently wrong with making money, the problem with Twitter and similar services is that they're intimate mediums. Unlike a blog or website, there's no room for ad inventory clearly separated from 'editorial' that viewers can choose to ignore. On Twitter, you are what you tweet. With each new follower, you've earned somebody's trust and attention. What you do with that trust and attention says a lot about who you are.
By in large, people are reasonable. If your blog has advertising and you thank your sponsors every once in a while, nobody is going to cry bloody murder. We understand. The summer house in the Hamptons doesn't pay for itself. But on Twitter, where the signal to noise ratio is already problematic, violating your followers' trust and devaluing their attention with marketing tweets is about as appealing as placing an interstitial before each and every blog post. Not the best idea.
The bottom line is that in every medium, there are respectable, common sense ways to monetize. Credibility and cash aren't mutually exclusive although it might be hard to tell that given how little it apparently takes to convince celebrities, millionaire internet marketers, social media "mavens", authors and venture capitalists amongst others to sell their Twitter streams to marketers for anywhere from a Jackson to a handful of Benjamins
Whether the bargain basement pricing on their social media souls says more about them than it does about social media itself remains to be seen.
Photo credit: Nick J Webb via Flickr.