They say sex sells. And UK retailer LoveHoney is, uhm, in the business of selling sex. In an effort to sell more of it, the company has come up with a simple yet clever way to make its sales data sexy.
LoveHoney's new UK Sex Map gives customers (and curious onlookers) the answer to a simple question: how sexy is my town?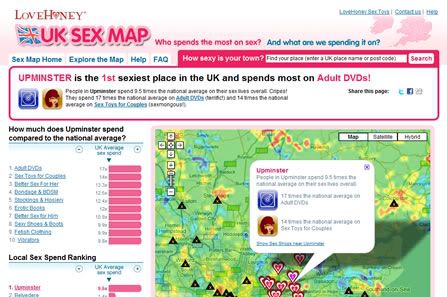 As reported by Springwise:
In creating its Google Maps-based tool, LoveHoney began by taking an
anonymous sample of more than 500,000 orders placed at its online
store. It then aggregated that data into regions that match population
statistics from the UK Census
and added in data representing sales from other retailers and
manufacturers. The result is the UK Sex Map, which shows annual
per-capita spending on sex products for towns with populations of
10,000 people or more. The map is updated monthly, and all data are
anonymised and aggregated, so no personally identifiable information
can be seen. Instead, heat-map colours reveal a town's spending habits
at a glance, with green representing areas that spend about the same as
the national average, dark blue indicating those that spend a lot less,
and red and white flagging hot points. Also visible, meanwhile, are the
particular types of items the various towns are spending on—vibrators
or condoms, for example—with links for quick purchase on LoveHoney's
site.
Thanks to the Sex Map, everyone will now probably speculate about the origin of Upminster's name. That's because, according to LoveHoney's data, Upminster is the sexiest city in the UK. The citizens of Upminster spend "9.5 times the national average on their sex lives".
Now for most of us, a detailed breakdown of what they're spending on, including specific products, falls into the category of 'too much information', but there's no doubt that this information serves a very useful marketing purpose for LoveHoney:
The Sex Map is killer linkbait. And since it's hosted on the lovehoney.co.uk domain, links should benefit the site as a whole SEO-wise.
It's a perfect way to get consumers who would otherwise stay far, far away from the LoveHoney website to visit.
It's a great brand building tool for LoveHoney. After all, chances are that your visits to Upminster will never be the same again, courtesy of LoveHoney's Sex Map, of course.
Obviously, not all sales data is as sexy as LoveHoney's, and a well-done Google Maps mashup related to more mainstream products probably isn't going to be anywhere near as intriguing. But I think LoveHoney has highlighted the fact that online retailers collect a lot of valuable data passively through sales. With just a little creativity, that sales data can often be turned into valuable marketing fodder.