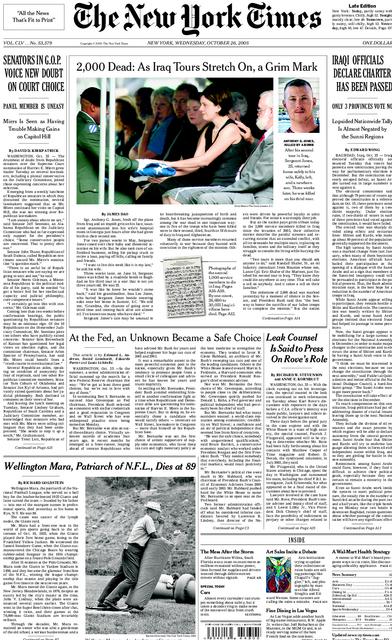 Online news sites may get fewer impressions, but they command the highest online advertising CPM, according to data just released by comScore's Ad Metrix.  The average online newspaper
site CPM was $7 in April, higher than each of the other top site categories and
nearly three times the $2.52 average CPM for the total U.S. internet.
These hard numbers underscore more concretly findings released simultaneously by the Online Publishers Association. In a report entitled "A Sense of Place: Why Environments Matter," the OPA, in conjunction with Harris Interactive, finds higher consumer trust and loyalty to content sites as compared to portals and social media sites.
Clearly, sites with professionally produced, branded content are squarely within advertisers' comfort zones as well. It may be a Web 2.0 world, but consumer generated media isn't where display advertisers are spending their budgets. Watch this space, however. The same does not necessarily hold true for marketing, as opposed to advertising, dollars. Marketing budgets are increasingly being allocated to the social web, albeit not in the form of classic display advertising. Social networking site may, on average, command only a $0.56 display CPM, but they hardly lack for marketing activity — monetizable or not.
comScore's data also indicate that despite a head-to-head war between The New York Times brand and The Wall Street Journal, the former is squarely on top and the latter is trailing in last place of the Top 10 online newspaper site. Granted, the former includes sites such as Boston.com, but it indicates that the WSJ has more than a ways to go in terms of playing catch-up, particularly with its recently
launched New York edition.
comScore found 123 million Americans visited newspaper
sites in May, representing 57 percent of the total U.S. Internet
audience. New York Times sites led the category with over 32
million visitors and 719 million page views. The
average visitor viewed a very impressive 22 pages of content on the New York Times. Tribune papers ranked second in terms of
audience with 24.8 million visitors, followed by Advance Internet (18.1
million visitors) and USA Today Sites (16.8 million visitors).
comScore SVP Jeff Hackett says these figures are rosy. "The good news for publishers is that even as print circulation
declines, Americans are actually consuming as much news as ever – it's
just being consumed across more media. The internet has become an essential channel in
the way the majority of Americans consume news content today with nearly three out of five internet users reading newspapers online each month. As news
evolves towards a more digital model, the issue is not attracting the
eyeballs, but rather demonstrating the true value of those eyeballs to
advertisers. As advertising rates for digital move closer into line with
those of traditional media, the economics of the news business should
begin to look a lot more promising."
Indeed, these numbers do look promising for display advertising, the bread-and-butter of news sites. Still, it remains to be seen what level of spend will be diverted by brand advertisers from media buying to media creation and social media marketing.