Google+ and search rankings
A report by Searchmetrics shows a strong correlation between a site's social signals and its ranking in Google SERPs.
Websites that rank in the top positions for Google usually have a large number of social signals, with Google+ apparently having the biggest impact.
The report is based on analysis of 10,000 search terms from Google UK, using the first three pages of results.
It's important to point out that this is a correlation rather than causation, so we can't necessarily say that social signals definitely lead to higher search rankings. But it does seem to suggest that there's some relationship between the two.
51% of agencies say Google+ has no impact on search campaigns
The use of G+ was explored in the new Econsultancy/NetBooster UK Search Engine Marketing Benchmark Report 2013.
Almost two-thirds (63%) of client-side respondents stated that they don't know if Google+ is having an impact on their search campaigns, compared to just 28% of agency respondents.
What impact is Google+ having on your/your clients' search campaigns?
Retail search increasing, with DIY and Gardening growing fastest
The BRC Google Online Retail Monitor Q2 2013 report reveals that:
Retail searches on tablets are up 132%.
Growth of retail searches on smartphone devices is up 66%.
Total search volumes from UK consumers searching overseas retailers increased by 51% in Q2 compared with the previous year.
Total search volumes grew fastest for DIY & Gardening, up 32% year-on-year.
DIY & Gardening also had the highest growth in search volumes on tablets and smartphones, up by 170% and 81% year-on-year, respectively.
Growth in search volumes on tablets and smartphones were at their highest on the weekend before the Wimbledon Championships.
Businesses now spend 24% of total marketing budget on paid search
Paid search now accounts for around a quarter (24%) of the average business' total marketing budget, according to a new report from Econsultancy and NetBooster.
The UK Search Engine Marketing Benchmark Report 2013 asked respondents about the division of marketing budgets into the search, social media and display categories.
Paid search is apportioned the largest average budget by companies (24%), followed by SEO (18%). Social media and display had equal average share of budget (both 11%).
This figure could potentially increase further by 2014, as more than half of respondents (55%) said they expect their PPC budgets to increase over the next 12 months.
Do you expect your budgets to increase or decrease in the next 12 months?
Mobile search spend up 132% year-on-year
New data from Covario shows that the level of investment in mobile paid search is slowly catching up with consumer behaviour.
On a global basis mobile search advertising accounted for 16% of total spend in Q2, of which 10% was spent on tablet and 6% on smartphone.
This represents an increase of 39% compared to Q1 2013 and a massive 132% increase year-on-year.
CPC prices varied significantly depending on the mobile platform. CPCs on smartphones remained at a 40% discount to desktop CPCs, but have increased nearly every quarter for the last five quarters – with the exception of Q4 2012.
Google and 'domain clustering'
According to a study by Stickyeyes, Google has been looking to show more diverse results in the wake of Penguin 2.0.
There are now, on average, 34.7 unique domains per 100 results as opposed to 19.3 before the uodate, meaning a number of terms weren't fully impacted.
1,323 sites lost all their results. Only nine of these started with 10 or more results and 121 with three or more, possibly a combined blow along with the Penguin 2.0 update.
451 sites lost more than 50% of their results.
52% of the current index is occupied by new domains with 8,892 domains that didn't rank now displaying.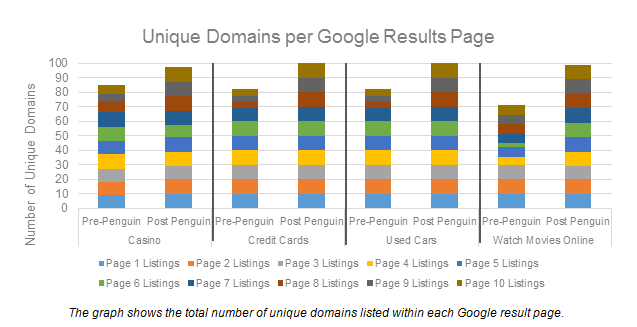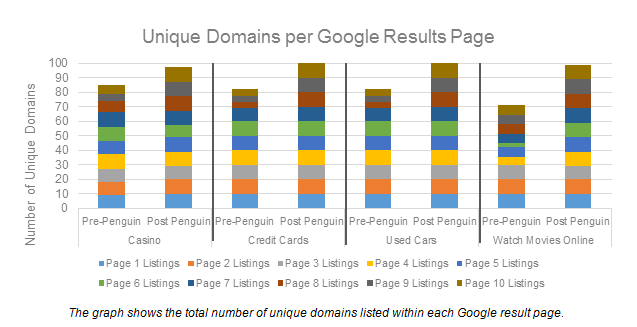 Percentage of traffic by Google search position
According to a study by Chikita, the number one spot in Google's organic results bags 33% of the clicks. 
Mobile flight searches
Greenlight stats show that were 3.2m online searches for flights in May 2013 and more than 17% of these were made on mobiles. 
Cheap flights' was the most popular term searched for on Google UK, accounting for 17% of all flight searches, and 20% of all searches made on mobile. 
55% of mobile search conversions happen within an hour
When consumers search for things on their mobiles more than half usually intend to buy it, according to new research from Google and Nielsen.
Participants in the study were asked to log their mobile searches over a two week period in Q4 2012, which resulted in more than 6,000 mobile searches being recorded, and then follow-ups were conducted by Nielsen to see what actions resulted from these searches.
Of the searches conducted by participants, three out of four triggered actions, which ranged from additional research (36%) to a website visit (25%) to a store visit (17%) to a purchase (17%) to a phone call (7%).
And, on average each mobile search triggered at least two of the above actions, although product and shopping searches were more likely to have higher numbers of outcomes.
Conversions also happened quickly after a search, with 55% occurring within just one hour of the original search.
40% of consumers may be unaware that Google Adwords are adverts
Research carried out by Bunnyfoot suggests that many people are unaware of the difference between paid and organic search listings, with 40% of web users unaware they were adverts.
While conducting a research project for an insurance sector client, Bunnyfoot discovered that 81% of users clicked on Google Adwords listings as opposed to natural search results.
Further investigation of this surprising bias revealed that 41 out of the 100 individuals tested did not know that Adwords were paid-for adverts, believing them instead to be the most authoritative links.
Amazon dominates paid search on Google UK
Amazon.co.uk is the site mostly likely to be seen in paid search ads on Google UK, as well as being the most visible online retail site in organic search results, according to research from Searchmetrics.
The list is dominated by retail, price comparison and travel brands including johnlewis.com, supaprice.co.uk and laterooms.com, with amazon.co.uk taking the top position.
Smartphones achieve highest paid search CTR
Mobile devices achieve higher click-through rates than desktops when it comes to UK paid search ads, according to a report from Marin Software.
The data looks at how different devices performed during 2012, with smartphones achieving the highest CTR at 5.87%, compared to 3.93% on tablet and 2.29% on desktop.
And though the same is true of the Eurozone, the difference is less pronounced – smartphones achieved a CTR of 4.78%, compared to 4.48% on tablet and 3.1% on desktop.