Sponsorships can be extremely effective for brands. But selecting and executing them properly isn't easy.
Sometimes brands sponsor things that are truly baffling. Such is the
case with Sprint's sponsorship of MSNBC.com's breaking news.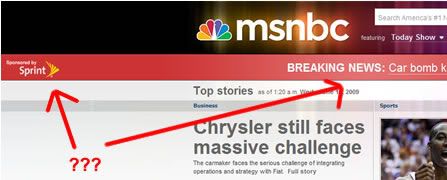 The screenshot above, taken earlier, shows a breaking news headline on the MSNBC.com website. The news was not good: a car bomb in Iraq had killed at least 15 people. But bad news was good news for Sprint and its Now Network, which received prominent placement as the sponsor of the news alert.
I've seen some pretty bad sponsorships in my day but as far as digital sponsorships go, this is up there.
To be sure, it's all but certain that Sprint didn't intend to associate its brand with such tragic news. But you'd assume that somebody at Sprint would have exercised common sense and realized that a sponsorship of breaking news on MSNBC.com might lead to a situation in which the Sprint brand was displayed prominently alongside the worst of news. After all, as disappointing as it is, breaking news is usually bad news these days.
The lesson: be careful what you sponsor. If you make a faux pas like this, you may not end up looking callous but you may end up looking a bit dumb. When you're paying for the privilege, neither is a good thing.
Of course, I suppose it's possible that I'm completely wrong. It's possible Sprint is rebranding from "America's Most Dependable 3G Network" to "America's Most Dependable Bad News Delivery Network". If that turns out to be the case, I apologize in advance for this post.