LinkedIn may not be the same kind of social network, but leading up to its IPO, it's trying to take a few pages from Facebook's playbook.
Recently, it launched new features around its share button, similar in nature to the Like button. And yesterday, it announced a new LinkedIn Platform, complete with Plugins that resemble Facebook's Social Plugins.
There's a Sign In with LinkedIn authentication plugin, which allows sites to allow their users to log in using their LinkedIn accounts. Based on OAuth 2.0, LinkedIn's offering serves much the same purpose as Facebook's authentication offering.
LinkedIn is also offering two member profile plugins, which allow members to embed their profiles on their own sites, and Company Profile and Company Insider plugins which enable companies to embed their profiles and relevant company-specific data on third party sites.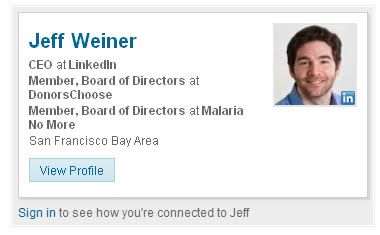 For those interested in promoting themselves, the new Recommend button may be of the most interest. It is like a Facebook Like button for products and services. According to LinkedIn, it "enables users to recommend your products and drive traffic back to you."
All of these Plugins are JavaScript-based, making it easy for individuals to implement them (the LinkedIn Platform website has web-based wizards for generating the embeddable JavaScript code).
LinkedIn also offers a RESTful API, which provides other ways for developers to interact with the site and its data, and there are developers using this API to build applications for it.
The launch of easy-to-use Plugins, of course, is a no-brainer for LinkedIn. With more than 100m registered users now, the company has more than enough traction to seek a stronger presence on the web at large.
Whether it will ever be as successful as Facebook in building that presence remains to be seen. Facebook caters to consumers, and is used by many as a tool for entertainment and leisure.
LinkedIn, on the other hand, caters to professionals and is far more utilitarian. It doesn't have the same kind of relationship with its users as Facebook, and therefore it seems likely that we'll see far fewer LinkedIn Plugins on the web than we see Facebook Social Plugins.
This said, the social network's new Plugins create new marketing and integration opportunities that don't require significant investment, and companies catering to professionals may find it worthwhile to take a closer look at them.