Facebook
A huge milestone for Facebook in July as its Messenger app surpassed the one billion monthly active user mark. With the company's other messaging app, WhatsApp reaching the same mark in February of this year it is clear that Facebook Messenger is making quick gains on Whatsapp.
Undoubtedly, this was part of Facebook's strategy when acquiring the start-up.
As the social media giant continues to innovate, Messenger has also released a new feature called 'secret conversations' which encrypts messages at both ends.
In short, this means that the user can send sensitive information more securely and also choose to have their messages disappear after a certain period of time.
This protects the message from any outside sources such as the government and even Facebook itself, bringing the messenger app further into 'dark social'.
Lastly, Facebook has continued its dedication to tech innovation by announcing OpenCellular.
This is an open source wireless access platform, which in layman's terms is a platform that will eventually enable wireless internet access to previously challenging areas from anywhere between 2G and full Wi-Fi access.
Currently still in Facebook Lab testing, it is certainly a project to keep an eye on!
Tinder
Hot off the heels of the dating app's foray into the world of politics with campaigns surrounding the EU referendum and the US Democratic candidate race, Tinder has further developed it's offering by adding a social element.
Users can now add friends who they are going on a night out with on the app, and match with other groups of people who are going out.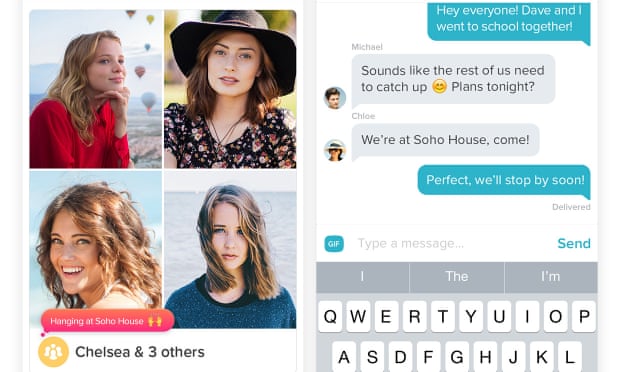 Given that the app's initial boom seems to have cooled off, it shows that Tinder is continually innovating and trying to stay ahead of rivals such as Happn and Bumble, moving away from the image of merely being a 'hook up' app.
Instagram
In an effort to keep up with Snapchat, Instagram has added a new feature called 'Instagram Stories'.
Essentially it is exactly the same as Snapchat Stories as you can stitch together videos and pictures from an experience and share it with your network.
Twitter
More live-streaming news – Twitter was used as a platform to bring its users closer to the premiere of DC Comic's latest offering: Suicide Squad.
With the event's own page, there was an active community able to comment and engage with each other, bringing it closer to Periscope and Facebook Live. 
Another example of how Twitter are focusing on 'live' is the coverage that was offered around Wimbledon. The sporting event had its dedicated page where exclusive interviews, commentary and replays were available.
With their multiple deals to live-stream sporting events such as NFL games, this may offer a glimpse into what we will have to look forward to, more than simply just being a broadcast channel.
This also links with a brand new deal with Sky Sports to broadcast Premier League highlights from the 2016/17 season in real time (via the Sky Football Twitter account). Presumably this is an effort to not just increase engagement but to combat the highlights which inevitably are posted illicitly to Twitter either via Vine or YouTube.
As well as this, Twitter is beginning a new campaign positioning the network as the place where you can 'see what's happening'. Launching itself as a primary news network – developing its Moments feature to be one of it's primary selling points.
See what's happening: https://t.co/ChbWRrSJyKhttps://t.co/r9AZd9rzI3

— Twitter (@twitter) July 25, 2016
Rounding off Twitter news, if you've ever felt that you deserve a hallowed blue tick – you can now apply for a verified account. The micro blogging site is allowing all accounts to put their case forward for verification. I applied and was greeted with a slightly disappointing email telling me that I'm not famous enough… 
LinkedIn
After its aquisition by Microsoft, big changes were always going to be coming to LinkedIn. The ad platform has already introduced programmatic display ads, and now the content is about to get richer too.
Certain influencers will be allowed to post 30-second videos surrounding specific topics. Currently this is available to LinkedIn's 500 influencers which will be shown on the right hand side of the user's feed.
Reddit
Reddit? Yes, Reddit. Whilst brands struggle to utilise the power of Reddit's huge online community any further than an AMA session (ask me anything), it seems that it is about to branch out.
Brands will soon be able to sponsor content from specific Reddit content providers in a similar way that YouTube stars promote certain brands.
However, the difference is that (in theory) brands will only be able to sponsor existing posts, rather than soliciting their creation. And the user who created the sponsored post will recieve a 'Reddit Gold' membership (an ad-free version of the platform.)
Snapchat
Remember Bitstrips? Those annoying DIY comics which all your Facebook friends created witty storyboards with. Well they're back, in a way.
The company behind the app has been bought by Snapchat to create Bitmojis. It allows the user to make their own cartoon character and overlay it on to your snaps.
Another addition to the Snapchat app is a 'Memories' feature. This allows snaps and stories to be saved within the app and means that you're able to literally browse through your memories whilst having the ability to search them for certain words.
Pokemon Go
Yes, the phenomenon that is Pokemon Go took over the nostalgic millennial population last month. Whatever your thoughts on the GPS based game, it certainly took off and became the most downloaded iOs app in history in the space of a few weeks. 
However whilst Nintendo are the brand most closely associated with the franchise, it seems it wasn't prepared for the unexpected success which saw the company almost double in value. 
Owning only a third of the Pokemon company, Nintendo made the peculiar move to announce that the game would have little effect on its projected profit forecast in the near future and that most of the gains would belong to developers of the app, Niantic.
Logic would dictate that physical product sales, which Nintendo was extremely good at in the early 2000's, would do well from pop-up stores or retail outlets in 'hot' areas of the game. However, there could be something big in the works.
And finally…
TheLADbible (whose Marketing Director is speaking at the Festival of Marketing in October) had an unexpected live streaming hit.
In the vein of classic schoolboy pranks, the banter driven website glued a pound coin to the floor outside its offices and set up a Facebook Live stream, alongside a Periscope broadcast. 
You may think it wouldn't be great watching, but I had it on my second screen at the time and it was oddly compelling.
Even more so was the comment stream from those watching, with various in-jokes developing (the most prominent was '/zoom' as the coin itself wasn't visible. In total there were over 1.3m views after an hour, and 83,000 comments.  
If you've got a spare few hours, you might want to enjoy the banality…