Is the internet going to be a godsend for traditional publishers or will it turn out to be a cruel hoax?
The answer to that depends on a lot of things, some of which are out of the control of publishers, such as the state of the economy and ad market.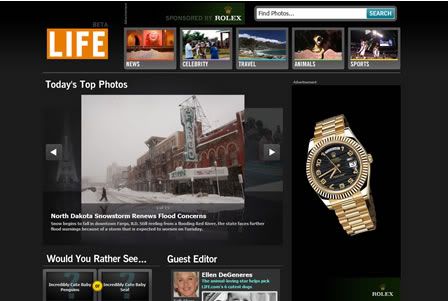 But Time Inc., which is owned by Time Warner, is betting that the internet can revive one of its publications, Life magazine, which it shuttered back in 2000.
It has teamed up with Getty Images as part of a 50/50 joint venture to launch Life.com. The site is simple: it's a collection of 7m categorized photos that will grow by 3,000/day. Time says that some of the photos on Life.com date back to 1850 and were never featured in print.
Getty Images built the site, is managing it and will be providing new photos going forward; Time is selling the ads. Right now, the site appears to count Rolex as its first sponsor. And advertising won't be Life.com's only revenue stream. According to the launch press release "Shortly, users will also be able to publish their own books and magazines".
So will it work? AllThingsDigital's Peter Kafka likes Life.com:
Maybe I'm just a sucker for cool images, but this one sucks me in. I think the Time Inc. folks are onto something here: While Web publishers are quite sensibly trying to figure out how to handle audio and video, it's worth remembering that photos are powerful, too, given the proper showcase.
I agree. I took Life.com for a spin earlier and was fairly impressed. The site is simple to be sure, but that's a good thing here. The homepage highlights topical Top Photos that are likely to be of interest. The top navigation provides quick access to key mainstream categories – News, Celebrity, Travel, Animals, Sports. Search results are ordered cleanly and visually and while a search for 'Paris' initially highlighted more celebrity photo galleries than galleries of the city (I was hoping to find photos of the city), Life.com provided me with the ability to narrow my results by location, making it easy to access the more than 92,000 photos in the search results that Life.com has that were from France.
All and all, I can think of worse ways Time could have looked to revive Life online. By partnering with Getty Images and keeping Life.com simple, Time should keep its costs down, which is important today given how many traditional publishers are struggling with costs and dwindling ad revenue.
Will Life.com succeed? That remains to be seen but either way, Life.com should serve as an interesting case study for traditional publishers that are looking to the internet to breathe new life into struggling publications or dead publications that still have a brand. If content is still king, a new throne may be what the doctor ordered for content-rich publishers like Time.