It's a blogger's world and print publications just live in it. Thanks to the power of internet self-publishing, mini media empires have been built by small companies and passionate individuals working from their homes.  Increasingly, these online mini media empires have complicated the picture for print publications whose online presences have been forced to compete on less favorable terms for a more fragmented online audience.
In an effort to stay relevant, print publications are trying to sup up their internet efforts. The latest example of that: Time's new tech/geek blog, Techland.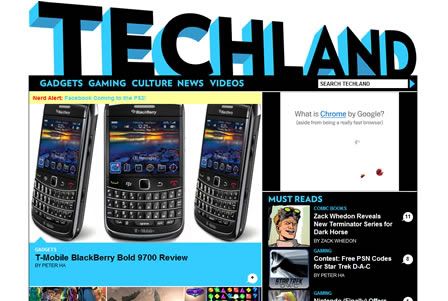 Techland is led by Time tech editor Peter Ha, who up until September was an editor for TechCrunch's gadget blog, CrunchGear. Other contributors include Matt Selman, who has written episodes of Seinfeld and The Simpsons, and professional writers/journalists Lev Grossman, Tracey John, and Steven James Snyder.
The blog, which, in my opinion bears some resemblance to Wired.com both visually and in terms of subject matter, covers just about everything geeky: gadgets, gaming, culture and tech news. In the blog's first post, Ha explains where Techland fits in:
Think of TECHLAND as the water cooler for nerds. Or, the way I see it,
TECHLAND is the result of some weird orgy involving Jeff Albertson, a
Cylon, Lev Grossman and Nikola Tesla. Weird, right? But it just works.
But does it work? There's good news, and bad news.
The good news first: Techland's content is authentic geek. From handset reviews to news that filming for the big-screen adaptation of Thor will begin in January 2010, Techland has the type of tech and geek news you'd probably never find in the pages of Time, or on Time.com. Some of the content is short-form (the post on Thor weighs in at a mere 85 words), there's video and the authors respond to comments. In other words, Techland is being run like a genuine blog and not a print publication.
That's refreshing, and Time was wise to bring in a blogging veteran like Ha to lead the effort. But is all this enough to make Techland a success?
That's where the bad news comes in: I think Time is trying to bite off too much. As I write this, Techland more closely resembles a menagerie of anything geeky than it does a somewhat-focused tech blog, as evidenced by the following sampling of headlines:
T-Mobile BlackBerry Bold 9700 Review
Fantastic Mr. Fox – the Comic Book?
Raising a Nerdy Child: iPhone Games
The Winter of Thor. Filming starts in January!
The 50 Best Inventions for 2009
Jay-Z talks DJ Hero and The Blueprint 3
In my opinion, Techland's apparent attempt to cover anything that might fall under the category of 'pop geek' could be a liability. After all, most of the web's top tech blogs have been built around niches within the tech category. That makes sense because covering everything 'techie' or 'geeky' is a tough task.
At the end of the day, Techland's success will depend on its eclectic mix of subject matter resonating with consumers, or not. Will Techland's breadth make it an appealing read for more mainstream techies and geeks, or will its lack of depth leave it unable to compete with already-established and more narrowly-focused popular tech blogs?
One thing is for sure: Time won't be the last traditional publication that attempts to compete with popular blogs. And win or lose, that's a good thing.