Even if you don't use microblogging services like Twitter and FriendFeed personally, monitoring what's being said on them may be of benefit to your company.
Online reputation monitoring is a rapidly growing market and our Reputation Monitoring and Buzz Monitoring Buyer's Guide profiles 16 vendors in this space. We've also provided suggestions for DIY reputation monitoring on the cheap.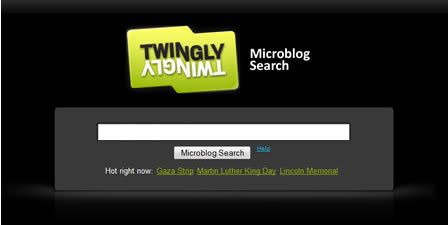 Add another free service to your list: Twingly.
The Swedish-based blog search engine yesterday launched a dedicated search engine for microblogs. This engine searches through Twitter, Jaiku, Identi.ca, Bleeper.de, Bloggy.se and Pownce. FriendFeed is on the way according to Twingly CEO Martin Källström.
I took Twingly for a spin and overall, I'm impressed.
The first thing you'll notice: a Google-like search page that's clutter free. Search results are also very clean; they're sorted by time posted (from newest to oldest), provide a basic filter allowing users to limit which microblogging services are included in the results and allow you to subscribe to RSS feeds or email alerts for the keyword(s) provided.
One annoyance: in a number of searches, it appeared that using quotations to search for specific phrases did not always return the best results (I sometimes received microblog posts with just one of the keywords contained in the phrase) but overall, finding posts related to Econsultancy, for instance, was very simple and returned good, up-to-date results.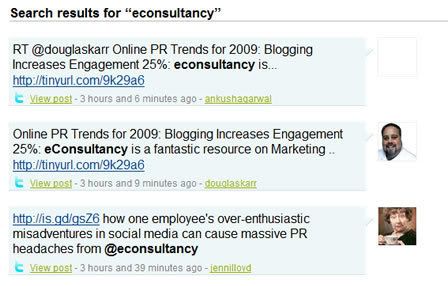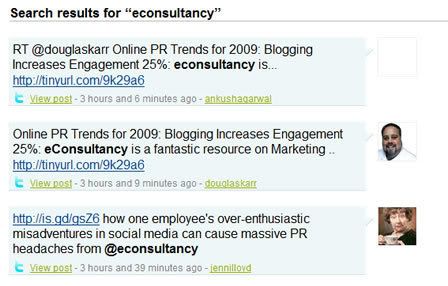 While Twingly isn't doing anything revolutionary or groundbreaking with
its microblog search, it's a well designed service and will be especially useful for those looking for a free and efficient way to search through the
millions of tweets and microblog posts that now traverse the
internet on a daily basis.