Twitter's Trending Topics list may or may not be useful to you. While they can often be helpful in spotting breaking news events and the hot topics of the day, they're also notoriously associated with spam.
In an effort to make them more relevant to users, Twitter yesterday rolled out Local Trends functionality for all Twitter users.
With a few clicks, users can opt to view Local Trends instead of the global Trending Topics that are displayed by default. Currently, Twitter offers Local Trends for six countries (Brazil, Canada, Ireland, Mexico, the UK and the US). It also offers Local Trends for 15 individual cities (14 of them in the US).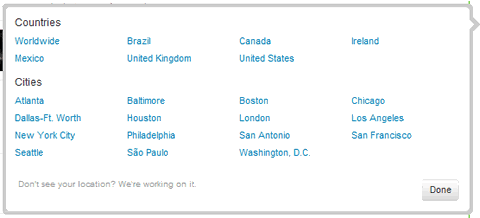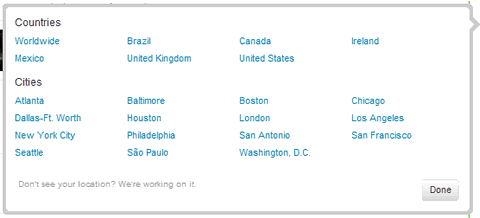 The announcement on the Twitter blog details what Twitter is trying to accomplish and where it is taking Local Trends:
Local Trends will allow you to learn more about the nuances in
our world and discover even more relevant topics that might matter to you. We'll be improving this feature over time to provide
more locations, languages, and data through our API.
While I'm not all that excited about being able to view Twitter's Local Trends on the Twitter site (or pull them through the API), the addition of richer geographic and language functionality to the API could be very important for Twitter. It's not hard to see the ways in which developers could take advantage of this to build interesting applications. For instance, it might be interesting to see what links people are sharing in a particular city. And I'm sure there are cool ways local businesses could more easily connect with customers and potential customers in their area using Twitter.
That thought raises an even bigger question: as Twitter becomes more geographically aware, when will it pull the trigger on incorporating geography into a business model? A lot of people have tried to build local business models online. From news to classifieds, success has often been hard to find. Twitter, however, might just find that local is its sweet spot. I for one would like to see it explore this area further. Hopefully, Local Trends is only the start of even greater experimentation in this area.
Photo credit: Brood_wich via Flickr.