Widgets have become pretty much ubiquitous on the web. Plenty of companies are using widgets as a low-cost distribution strategy: they offer their tools and services in a form that enables users to embed those tools and services into their own websites.
Now Google is getting into the act. It wants to widgetize your blog and website with its products and has launched Google Web Elements to do just that.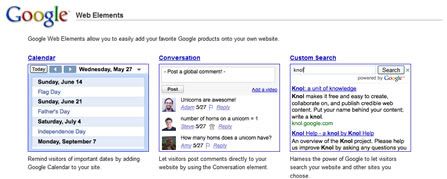 Put simply, Web Elements enables users to take some of Google's most popular services and to embed portions of their functionality into their own websites.
The products that Google is offering Web Elements for are currently:
Calendar
Conversation
Custom Search
Maps
News
Presentations
Spreadsheets
YouTube News
Configuring a Web Element is easy:


As is obtaining the code for copying and pasting:

It's a smart move and should increase the popularity of these products, by making them idiot-proof… just as YouTube did with it's instructions on how to embed a video.
That said, our rich text editor doesn't like iFrames so we're going to have to make a couple of tweaks to our code to be able to easily show you an example of how this works!