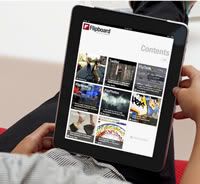 The iPad? Hot. Social media? Hot. Magazines? Not so hot.
What do you get, however, when you put them all together? One startup is trying to find out, and some notable venture capitalists and angel investors were eager enough to pony up $10m to help it.
The startup is called Flipboard. Its iPad app is already for sale, and the company will demo it to the world today at the FORTUNE Brainstorm Tech conference.
What is Flipboard? Flipboard is an attempt to take all of the important content from your favorite social media sites and turn it into a digital magazine that's presented beautifully on the iPad:
Designed from the ground up for iPad, Flipboard creates a magazine out
of a user's social content. Simply launch Flipboard and "flip" open the
cover to get started…The Facebook and Twitter sections let readers quickly flip through the
latest stories, photos and updates from friends and trusted sources.
Because Flipboard renders links and images right in the magazine,
readers no longer have to scan long lists of posts and click on link
after link – instead they instantly see all the stories, comments and
images, making it faster and more entertaining to discover, view and
share social content.

In other words, Flipboard is a new take on the not-so-new concept of a personalized magazine or newspaper. The notable differences, however, are that Flipbook is based on user-generated content and content 'recommended' through your social graph. And it's being presented through an iPad app.
That combination has investors intrigued. Well-known VC firms Kleiner Perkins Caufield &
Byers and Index Ventures have invested, as have notable angels including Twitter co-founder Jack Dorsey and Ashton Kutcher. That's not particularly suprising. Not only does Flipboard look like a really nifty app on a superficial level, the co-founders are both experienced tech veterans. Mike McCue is the former CEO of
Tellme, which was acquired by Microsoft, and Evan Doll is a former senior iPhone engineer at Apple.
Kleiner Perkins partner John Doerr told AllThingsDigital, "This is the next wave of social media and redefine what magazine is…and I think
it will be one of defining apps on the iPad."
Flipboard may look very slick, and the people behind it may have the right pedigrees. But that doesn't mean that turning Flipboard into a successful business will be easy. For one, there's the business model. Right now, Flipboard is free, and it's unclear how the company plans to make money, or whether users (or advertisers) would be interested in paying for it. Second, as hot as the iPad is, all things being equal it is still a relatively small distribution channel. And finally, for Flipboard to become more than just a shiny novelty, it has to deliver true utility (read: compelling, relevant content).
On that note, Flipboard also announced that it has acquired a
semantic analysis company called Ellerdale which Flipboard says will enable it "to extract, categorize and feature highly relevant and hot trending
content from across a variety of social networks." That, of course, is the Holy Grail many companies in the social media space are searching for today. If Flipboard succeeds in finding that Holy Grail, it will simply have to hope that the iPad is the Ark.
Photo credit: Flipboard.