Based on these simple aspects, how might Ellie unseat Lululemon?
Value
Using the same high-quality, high-tech materials Lululemon is known for, but selling product at about half the cost, is what could really make Ellie really stand out in the market.*  Rather easy to say, but they have some strong foundational pieces in place to make it happen while still maintaining strong profits.  
Completely online, Ellie has no brick-and-mortar overhead, so there's immediate operational cost containment. In addition, in-house manufacturing in LA could prove to be more cost-effective than outsourcing (more on in-house manufacturing below.)
Engagement
The subscription model (think workout wear of the month club) is really interesting to me.  While I can't see myself needing three new pieces of workout clothing each and every month, there's almost assuredly a huge market for it. As it consistently keeps customers engaged with the Ellie brand, it's logical in providing higher revenues, profits, and customer lifetime value.
Customer-vetted products 
Here's a spot for disruptive brilliance.  Pre-production designs will be shared via online social marketing, through Facebook, etc, and customers will give feedback on options.  Ellie will be able to determine which designs to produce based on real —rather than anticipated—market reaction.  In-house manufacturing then means super-fast (as in, less than a week) productizing of the latest designs, which will have already been vetted by an audience eager to look good while working out.
OK, so what's not to love?
I'd read that they would launch with only 16 products, so I was expecting limited stock, and site functionality—understandable for a new brand launch.  Given that Ellie had received first round funding just a couple weeks ago (as of this article's writing), I assumed that the "prototype" site would be rather slim, potentially even just a proof of concept created to obtain the funding.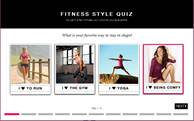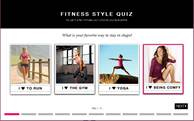 What really tarnished the experience was that I was forced to take Ellie's "Fitness Style Quiz" AND give my email address before I could see any product information more than literally a handful of pictures and prices. 
The "Fitness Style Quiz" is nicely designed: very visual, good progress indicator, simple multiple choice questions on personal preferences.
However, without any context, it was tricky to make choices completely separate from an actual product.  Without understanding the ultimate purpose of the quiz, I wondered if my choices would impact the products I'd ultimately be shown on the site.  
After completing the quiz and entering my email address, Ellie presented my "Personalized Selection" of four styles tailored to my Quiz answers.  Four products were above the fold, and (ouch!) one of them displayed a giant black "sold out" sticker.
Of course launching a new brand isn't easy, and one should expect a couple small bumps along the road.  I'm really hoping, though, that Ellie changes the stance on requiring email address to access the products.  List-building is important in building a new brand, but in the long-run CX will suffer, and public sentiment may cause more trouble than it's worth.  I can only think of a couple brands, like Rue La La, that have been able to pull off a "private" or "exclusive" kind of cache and succeed.
Still optimistic about future content targeting from Ellie
I'm excited to see where Ellie takes this business model, and how they evolve their digital experience and content targeting. I'm willing to give the benefit of the doubt that the current site is not representative of the ideal digital presence for Ellie.  
The optimization-focused marketer in me is hoping I participated in an A/B test to determine if this pre-site UX increases engagement and conversion.  I could see potential B-version experience setting a cookie that discreetly follows the user through the site, noting the styles she likes, then at some point delights with a surprise "personal shopper" set of outfits.  Nice.
Pretty serious firepower behind the brand launch
Ellie is backed by L.A.'s hottest incubator today, Science—consisting of a number of former MySpace executives, and already incubating a number of interesting startups—and raised $2M in first round funding last week from Trinity Ventures, Rustic Canyon Partners, and Blumberg Capital. 
It's obvious Ellie is disrupting the industry, with a unique model and strong backing, but are they setting a new standard for lifestyle brands?  We'll see if they eclipse the supernova of Lululemon, but one thing is certain – this kind of innovation will drive evolution of the customer experience for this industry, and likely others.
*Editor's note: The team behind Lululemon reached out to us to ask to put in a correction about the statement that Lululemon and Ellie are made from similar material in our article. They said "LUON is a proprietary fabric manufactured exclusively for lululemon. Ellie's products are made from Eclon, which is NOT the same."