Rethinking the model
As ecommerce made up only around 7% of retail sales in Western Europe in 2015, there's a tendency for some commenters to underplay its significance.
Online and offline sales are not black and white and sales is too simple a metric to understand the relative importance of the internet.
Click and collect, store finders, data collection and email promotions are all well established online-to-offline value creators, not to mention the degree of online browsing to offline purchase.
However, despite the industry's parroting of 'multichannel' and 'omnichannel' experiences, the model has one wheel in a rut, with digital offering few engaging or new experiences (aside from convenience and in some cases editorial).
Where retailers have made a more concerted effort to blend online and offline, failures of concept have been conspicuous (beacons, digital kiosks in store, virtual fitting online, F-commerce etc.).
Reinventing ecommerce by looking to China and pureplays makes perfect sense. Chinese consumers forge greater connections with brands, were quick to adopt multi-faceted social platforms (and use them for payment), and are keen to engage with a range of functionality (again often within apps – WeChat, for example).
Marks & Spencer digital rails may not be the blend of online and offline that consumers want.
Zalando's transformation
What I'm trying to get at is something that Zalando chief Robert Genz said briefly and elegantly at Wired Retail in November 2015.
We started as a fashion retail company, but now we're going to be a fashion technology company. 

I was shown a Chinese webshop, and it was totally different to the kind of thing you get in Europe.

I realised that in order to be successful, you have to make your own platform, and focus only on this platform.

The platforms in China were so connected, so they're already able to deliver consumer experiences that are far beyond what we get in Europe.
Genz went on to put it even more succinctly:
The opportunity is there. But the immediate plan is to continue our shift from being an online retailer to become Europe's largest online platform for fashion.
Zalando UX
Zalando has been rebuilding its websites since May 2015 and there's no doubt there's a lot to come from its broader platform over 2016.
The company has already rolled out a range of functionality that's best practice or at the cutting edge of ecommerce, made possible by the architecture it has built predominantly in-house.
Here are a few features of note:
Zipcart – an app for same day delivery (part of a developing app portfolio)
Zalando is developing an app portfolio, including Zipcart which allows Zalando to restrict product listings to those it can deliver same-day for free.
The app is in trial phase in certain areas of Berlin, but shows how the company is investing in increasingly slick fulfillment.
Apps are central to Zalando's vision of a fashion platform, with its own studio of designers focusing on expanding the portfolio. 
Zalando APIs have been used by startups, including Amaze, a new Tinder-style fashion app that launched in summer 2015.
Bag and wishlist synced across mobile app & web
Zalando released some statistics as to mobile usage of its service back in September 2015 on its blog.
More than half of Zalando's +16m active customers shop via their mobile devices, and soon mobile purchases will surpass desktop.

The Zalando app has now been downloaded more than 11m times and mobile now makes up 57% of Zalando's overall traffic.  
With such mobile adoption, Zalando follows Amazon's best practice of syncing app and web bags and wishlists, allowing consumers to seamlessly switch devices, wherever they like to browse, checkout or share.
Barcode scanner & image recognition in app
The Zalando app also makes showrooming easier than ever, with a barcode scanner.
The photo search can perform the same function or perhaps allow consumers to research looks from magazines or even in the street.
(Gamified) shoppable Instagram
Perhaps the biggest conceptual hurdle for European ecommerce is social selling. Long are the lists of Facebook and Twitter's mooted/actual attempts to integrate commerce into their platforms.
Part of the reason for greater social selling success in APAC is cultural – peer approval is a very important dynamic in fashion retail.
Zalando taps into the Instagram community using basic image recognition and manual curation.
Users share their images using the #zalandostyle and #shareyourstyle hashtags and Zalando selects the best images to be featured on its own Instagram and in the Zalando iOS app.
This section of the app is accessible directly from the start page, and users can tap on a style to see products that are either exact matches or very similar recommendations (with the app filtering out photos of out-of-stock items).
Net-a-Porter is another retailer focusing on the social element of shopping, with its sophisticated Net Set social network, and Zalando is set to develop its own feature further, to create this same social shopping dynamic.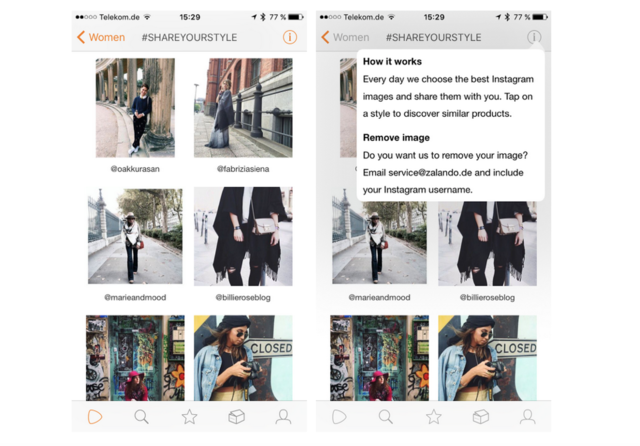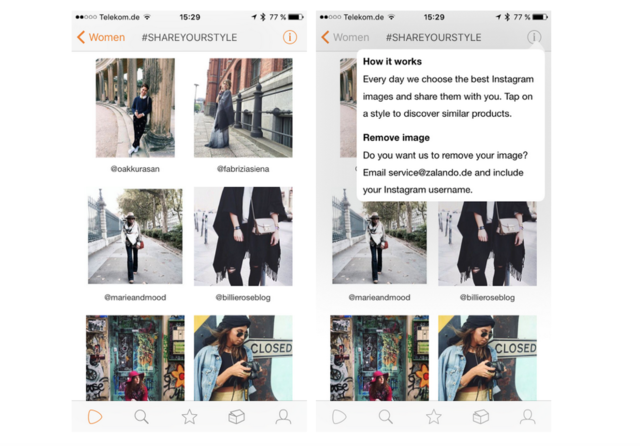 A smarter feed
Pictured in the screenshot below, Zalando delivers me a long feed ('Fashion for You') of new and trending products, as well as brand cards.
This is personalised for me with the option to dismiss brands and products I don't like.
Detailed product pages with 'shop the look' functionality
'Shop the look' can be clunky, but here it is integrated into product pages as a call to action, which folds out a detailed and interactive view. 
Other product page features include notifications when sizes come back into stock, a wishlist, reviews, recommendations and plenty of photography.
A full catalogue
Zalando allows you to filter the entire product catalogue of more than 140,000 products on one page. Impressive.
So if you want to see everything in black, that's less than a month old and under £200, you can do.
Curated content
'Looks of the week', 'style notes', 'street style', 'how to wear' – there's a range of curated editorial content, all linked back to product listings.
Zalando Lounge
This is a free members-only sales promotions site (similar to vente-privee), with up to 80% discounts, featuring countdown order timers.
These products are ordered in bulk, direct from the manufacturer, so the turnaround time is longer (three to five weeks), and this is reflected in the heavily discounted prices.
Zalando Lounge incentivises users to invite their friends with an £8 sales coupon.
Zalon
As mentioned in the intro, Zalando is bringing stylists to consumers, through its sister site Zalon.
This is similar to other box services (such as Trunk Club) – you tell Zalon about your style and it curates a collection of clothes which you can try, buy or return.
The site allows you to be in touch directly with stylists by booking telephone consultations.
WeChat case studies
WeChat, the platform most often recognised for its impact on customer experience in China, stands out for the way it allows the mobile to become part of the physical world, including in retail.
Here's just a couple of examples I've taken from an excellent post by Connie Chan:
Mon-Mon toy
'Parents can use the Mon-Mon (a bluetooth enabled stuffed toy) official account in WeChat to send personal voice messages and pre-recorded English courses or bedtime stories to their child's toy while they are are at work or travelling.
Kids immediately get those stories or messages, and can even press Mon-Mon's belly to reply to their parents' WeChat account in a message delivered back as a voicemail.'
Mei Wei Bu Yong Deng restaurants
'The Mei Wei Bu Yong Deng official account lets users search through a directory of restaurants nearby, see how many people are currently waiting in line for a table at those restaurants, and even grab a number to wait in line without being physically present at the restaurant.'
It's the combination of social messaging, payment and multiple data inputs (GPS, microphone, Bluetooth etc.) that makes WeChat so powerful, enabling the apps-within-apps strategy that Facebook is currently trying to emulate in its Messenger app.
Rather than just posting messages on a social network, brands can send coupons, allow orders, display user information etc. 
Zalando's vision is no doubt fashion retail with this sort of mobile engagement – social, multi-functional, as well as commercial.
Ways of working
Zalando's commitment to the platform-isation of fashion online is visible in its open and transparent tech microsite.
Here Zalando blogs about its work, as well as sharing a repository of open-source projects, discussing jobs and culture.
Our department has built most of our platform in-house, using open source and cutting-edge technologies such as Scala, Cassandra, Clojure, and React.js.

We work in small, agile, autonomous teams and follow principles that enable us to produce the most delightful shopping experiences possible.
With a talent shortage in data, design and development, it's clear that those businesses that are intent on designing new services/platforms within burgeoning markets have to advertise themselves.
Zalando includes a fair amount of detail on the methods and ethics of its workplace, mentioning its innovation lab, chillout areas, tech constitution and copious perks.
This is the arena that fashion retail exists in now, no longer the preserve of big traditional brands but increasingly seeing inspiration and competition from Amazon and Silicon Valley.